View Product Reviews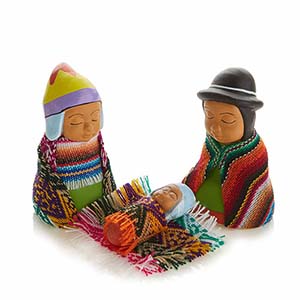 beautiful
Jan 18, 2023 | Posted By Teresa Angelino-Prieto from Jensen Beach, FL United States
I have bought 5 of these little Nativities for myself and family and dear friends. It is so beautiful and well made and captures the spirit of the birth of Jesus to the world perfectly.
Reminds me of my trip to Peru
Dec 13, 2022 | Posted By Vickie Brunstetter from Salt Lake, UT United States
I like having small nativities from places that I have visited and this little holy family fit the bill.
beautiful
Dec 21, 2021 | Posted By Teresa from Jensen Beach , FL United States
Beautifully made and packaged perfectly,
Top Quality Product
Dec 6, 2021 | Posted By Sally from Denver, CO United States
This nativity scene is more colorful in person than the picture indicates! It was a gift and loved it so much I ordered more. Amazing quality craftsmanship. Serrv never disappoints and love that all are handmade items from outstanding artists.
Wonderfully Beautiful
Nov 23, 2021 | Posted By Mark Hallinan from New York, NY United States
Stunningly beautiful! Such vibrant colors and careful attention to detail. Surpassed my expectations.
Highlands Holy Family
Nov 22, 2021 | Posted By Gretchen Geller from Butte, MT United States
Have had the opportunity to spend time in Peru and so this 3 piece nativity means a lot to me. the authentic bits of fabric add a lot.
Thank you!
Jan 24, 2021 | Posted By John charles Darlington from Minneapolis, MN United States
Words cannot express how much my spouse and I love to choose and order gifts (and personal necessities and wants) from SERRV. We have nothing but good to say about what you are about, and how you brighten our lives with art that illustrates the brilliance and beauty of the whole of God's children.
Highlands Holy Family
Nov 8, 2020 | Posted By Kathryn Snelling from Sitka, AK United States
Well Executed Petite Set
Nov 1, 2020 | Posted By Gail O'Dell from Juneau, AB United States
This is uniquely sweet and wonderful. It is well crafted with good attention to the details. Gift quality for sure...although I'm using it to bring Christmas to a lonely corner in our our guest room!
So touching....
Nov 27, 2018 | Posted By L. D. Pratt from Berkeley, CA United States
This Peru/Highlands family is so awesome--was going to order another set for friends. Sadly, it is out of stock!.