View Product Reviews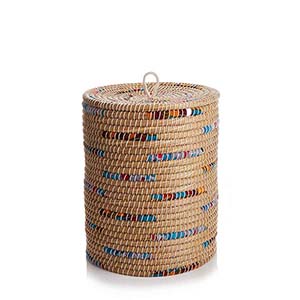 Chindi Stripe laundry basket
Nov 14, 2022 | Posted By Judy Sexton from San Diego, CA United States
I love this basket and that's why I bought this on as a Christmas present for my grandson
Excellent storage
Apr 20, 2022 | Posted By Shela from Arlington, VA United States
I bought this laundry basket to store my exercise equipment for Zoom classes. It's attractive enough that tucked in a LR corner, it's quite an attractive compliment to that room which is the largest I have for exercise purposes. Hoping to get back to in-person classes soon so LR may lose its exercise function but sure I will find another wonderful use for this lovely basket w/ lid.
Great basket
Jan 3, 2022 | Posted By Christina Jackyra from Bordentown, NJ United States
I am using this as a laundry basket--it's the perfect size. It is really well=made and attractive. I'm very pleased with this purchase.
What I needed
Dec 24, 2021 | Posted By Gail Terp from Glens Falls, NY United States
I ordered 2 of these baskets for storage in my small apartment. They work perfectly and look very nice.
Beautiful and functional
Oct 9, 2021 | Posted By Debbie Garoutte from Grants Pass, OR United States
I love this item. It is not only beautiful but it's perfect for the laundry basket that I purchased it for. It's light enough that I can haul it from my upstairs area to the first floor laundry room with no problem. I am really pleased with this basket choice.
Attractive Laundry Hamper
Sep 17, 2021 | Posted By Patricia C Neeves from St. Augustine, FL United States
Just love this lidded laundry hamper! Visually attractive, well made, good size, reasonable price. I only wish an appropriate liner was available for purchase as well. Regardless, I definitely recommend if you are looking for a beautiful basket for storage or as a hamper.
love this basket!
Jul 5, 2021 | Posted By Susan McConnell from Portland, OR United States
I have been looking for a laundry basket and could not find what I had in mind. Until I remembered SERRV and looked at their site. This laundry basket is exactly what I was looking for! The quality is fabulous, so much better than I was finding in stores and the price is reasonable. It is a beautiful addition to my recently renovated master bathroom.
SERRV saves me every time!
Dec 7, 2020 | Posted By Emily from San Francisco, CA United States
I love this laundry basket. In fact, everything from SERRV is a reminder that, as a consumer, you can still buy gorgeous, high quality, handmade, artisanal products that actually cost LESS than the mass-manufactured, lower quality ones sold in the US. Did ALL my holiday shopping this year on SERRV and feel amazing about it.
Beautiful and sturdy
Nov 8, 2020 | Posted By Barbara Delaney from Madison, NJ United States
This deserves more than five stars. It is heavy sturdy beautiful and well-made.
Laundry basket
Aug 3, 2020 | Posted By Marilyn from Stoddard, WI United States
A useful and attractive product. Very good customer service.
love this
May 12, 2020 | Posted By linda from Tamarac, FL United States
I love this laundry basket. sturdy, pretty
Great, just as describe
Jan 11, 2020 | Posted By SHARON LEA BENNETT from Stillwater, OK United States
Great basket for my yoga mats and foam roller, looks good in my corner. Strong and sturdy. Just have to keep the bunny away from it so he won't eat it! LOL
Chindi laundry basket
Jan 2, 2020 | Posted By GRACE TAYLOR from MOODUS, CT United States
This was a gift for my son in another state. I never saw it but he was very happy with the present and stated he likes it very much.
Just delighted!
Nov 13, 2019 | Posted By Sara M. Garrett from Big Spring, TX United States
When this arrived, I was so pleased! Beautifully made, sturdy, and large. You couldn't want for a better laundry hamper.
So happy with my purchase!
Oct 29, 2019 | Posted By Naomi Seedberg from Livonia, MI United States
This basket is a beautiful piece of art. I just love it. I had admired this laundry basket for a while and am glad that I now have it in my bedroom. It will match any decor.
Chindi Striped Laundry Basket
Oct 19, 2019 | Posted By Kathleen Gamez from Hayward, CA United States
It is just as expected. Very beautiful!
Chindi Striped Laundry Basket
Sep 12, 2019 | Posted By Jennifer Joy from Selah, WA United States
I absolutely love this basket, very well made and beautiful too!
Baskets
May 19, 2019 | Posted By Barbara A Fellion from Newark, CA United States
I'm so much in like with my new Chindi Stripe Laundry Basket. It's really beautiful. Just what I wanted and needed. Thank you Serrv
Perfect
Jan 10, 2019 | Posted By Lynn from East Stroudsburg, PA United States
Love this hamper. It's sturdy and beautifully made. It fits perfectly in my bathroom.
Perfect!
Oct 15, 2018 | Posted By Polly Birdsall from Middlebury, VT United States
We are delighted by this lovey basket. The handwork is exemplary, and the basket works perfectly to collect our recycling-worthy mail until it is time to put it out.
Chindi Laundry Basket
Sep 26, 2018 | Posted By Teresa Giacomini from Cornelius, OR United States
This basket is beautiful and just the right size and well constructed. I love it!