View Product Reviews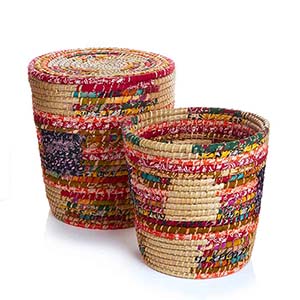 All Around Great
Aug 23, 2022 | Posted By PhDee from Pottsville, PA United States
I've bought more than one set of these baskets. They're sturdy, attractive, light, and useful. I've used them in the kitchen for bags of pet food or snack food, in the bedroom for teeshirt/sweater storage, in the bathroom for linens or laundry . . . perfect everywhere and for almost everything.. HIGHLY recommended.
Perfect
Apr 20, 2021 | Posted By Eileen Johnson Oddo from White Plains, NY United States
I love my new Laundry basket and yoga gear basket! I know you can use them for anything you want and I love them for these tasks.
Love them!
Nov 27, 2020 | Posted By Charles Frach from Bemidji, MN United States
Great buy!
Nov 26, 2020 | Posted By Gail from Green Valley, AZ United States
These are very pretty sturdy baskets. The lids fit snuggly with an interior lip the fits inside the top opening perfectly. They dress up any spot where used. Completely happy with this purchase.
Wonderful baskets!
Nov 1, 2020 | Posted By Pam Dominik from Waco, TX United States
Large , sturdy and colorful. Well- made with a nicely fitting lid on each.
Beautiful
Oct 25, 2020 | Posted By Sheri from IRONWOOD, MI United States
Much heavier/better quality than I expected. They are wonderfull quality and highly useful as well as beautiful
Very impressed
Aug 29, 2020 | Posted By Alan Shultz from HOUSTON, TX United States
I love the quality of these baskets, they are made of thick, durable material and I absolutely love how they look by my couch. Everything I've gotten from Serrv has been high quality.
Pop Top Chindi Basket Set
Sep 12, 2019 | Posted By JenniferJoy from Selah, WA United States
These baskets are really awesome. The quality is excellent and they truly are beautiful. I love them!