View Product Reviews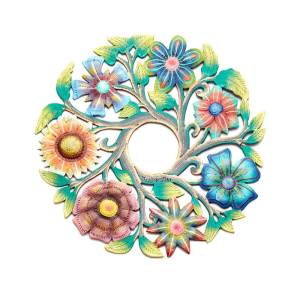 Just as pictured
Mar 31, 2023 | Posted By Carrie from Islesboro, ME United States
The wreath is colorful, bright, and looks like it will do well on an outside door. You can hang it from any little hole in the design which is nice. I glued some rubber nubs on the back so it wouldn't scratch the door on a windy day.
Beautiful
Nov 10, 2022 | Posted By Jean Block from Columbus , OH United States
Beautifully crafted and beautiful to look at.
Very versatile
Mar 28, 2022 | Posted By Joyce f jackson from BETHLEHEM, PA United States
I have this on my front door replacing a spring wreath. It is attractive, easy to handle and should last for years
Perfect
May 7, 2021 | Posted By Pam from Duluth , MN United States
I ordered this to hang on our front door. I love the craftsmanship, very intricate and beautifully painted. I appreciate the time and talent of this artist. I've never been disappointed with any item from the artists who are involved with SERRV.
Beautiful Decoration
Feb 28, 2021 | Posted By Teresa Smith from TEMPLE CITY, CA United States
Colors are brilliant! Adds color to an outside fence.
Great quality, beautiful colors
Nov 10, 2020 | Posted By Lauren from Huntsville, AL United States
I bought this to hang on my front door. The colors are stunning and the metal is thick and well cut, with no sharp ends. I love this and plan to buy more of these metal wall hangings!
Flower Wreath
Jul 13, 2020 | Posted By Rosemary Fallon from Silver Spring, MD United States
Beautiful
Jul 11, 2020 | Posted By Cynthia Craig from Tallahassee , FL United States
Originally bought this as a front door wreath but it's so lovely I wanted to enjoy it indoors. Looks lovely on my wall.
flower wreath
Mar 17, 2019 | Posted By cynthia williams from vass, NC United States
The flower wreath is even more beautiful than pictured in the catalogue. How magical it is to be able to transform something so ugly into the very beautiful flower wreath. Creativity and opportunity win!