View Product Reviews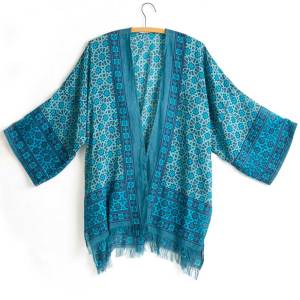 Love it
Mar 4, 2023 | Posted By Janet from Columbus, OH United States
I have all three of the kimonos and enjoy wearing them in the summer. This one is my favorite. How about some new kimonos?
Nice accessory
Sep 13, 2022 | Posted By Marla R Wilckens from Great Falls, MT United States
I am very pleased with the kimono top. It is bright and cheerful and just enough weight to it for cooler days.
Not for small people
Sep 8, 2022 | Posted By Bonnie Bezila from Mount Airy, MD United States
It's too bad this kimono does not come in sizes. I could have put two of me in this thing! It is HUGE!! Returning it.
Soft perfect little kimono top
Jul 22, 2022 | Posted By Gaye from Indio, CA United States
Exactly what I wanted, soft 100% cotton topper to go over everything from Jeans to dresses. Fair prices and beautiful colors (I bought the green/blue as well as the red/brown)
Love the jacket
Jul 1, 2021 | Posted By Sharon M Dodge from Sunset Beach, NC United States
I love this jacket. Love the colors and it fits perfectly! The artist did a wonderful job!
Beautiful design
Jun 22, 2021 | Posted By Paula M Gates from Spencer, MA United States
Lovely garment--soft and light--perfect for summer
Kimono
Jun 16, 2021 | Posted By Donna P Lafferty from Denver, CO United States
I really like the kimono--the design was as listed in the catalog. The material was thin and appropriate for the hot weather.
kimono
Feb 24, 2020 | Posted By laurel davis from Penn Valley, CA United States
Simply Beautiful
Jun 22, 2019 | Posted By Jean from Arlington, VA United States
I love the Starburst Kimono! It is beautiful, well-made, and adds just the right touch of polish and warmth to anything I wear with it. I'm 5'5 and the length is perfect--hem and sleeve.
starburst kimono
Feb 27, 2019 | Posted By patricia m bazzel from Springfield, VA United States
I purchased the Kimono as a gift for a friend. The color and fabric is light and should compliment any attire depending how you accessorize.