View Product Reviews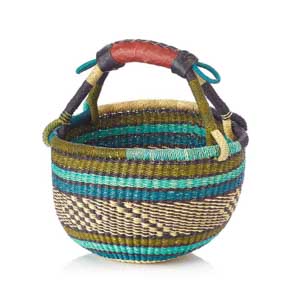 Mini Baskets
Feb 4, 2023 | Posted By Jennie Ray from Greenville, SC United States
They are great. I am on a waiting list to order more when more are available. Reshaping them when they arrived was easy.
Love this basket!
Feb 4, 2022 | Posted By Sharon Newlin from Stockton, CA United States
As advertised, this basket arrived somewhat flattened, but it only took a moments dunking in the sink to make it pliable enough to reshape. Beautifully made, vibrant colors, great fun to shape. Made it feel more personal!
Love
Jan 4, 2022 | Posted By Cathleen Becskehazy from Tucson, AZ 85718, AZ United States
With own several of these baskets, in various sizes, and I give them as gifts. All I have to say is I love them for their quality and utilitarianism..
Beautiful basket
Dec 29, 2021 | Posted By Jamie Eymann from Grand Rapids, MI United States
This Basket is so Beautiful and made with care and pride! A work of Art!
Beautiful
Nov 3, 2021 | Posted By Ellen H. Masterson from Dallas, TX United States
I ordered one of these baskets to check it out before deciding on whether to give it as gifts. Just ordered 4 more! It's a wonderful size for all sorts of uses -- from bread basket to odds & ends to knitting supplies. I can think of hundreds of things I will use it for -- I'm keeping one for myself!
Sweet Small basket!
Apr 3, 2021 | Posted By Dora Elaine Tiller from Silver Spring, MD United States
This basket is vibrant in the blues and greens and a lovely shape. It was much easier to water down and reshape than the larger baskets. Easier on my hands. A very nice decorative basket.
Beautiful basket, poorly packed
Feb 14, 2021 | Posted By Randy Meg Kammer from Jacksonville, FL United States
This is a beautiful basket, however, someone squished it for packing and I am unable to get the basket reshaped to its original shape. I still use it but it is lopsided
Please try to dampen it and reshape it, we hope that helps!
Disappointed
Jan 13, 2021 | Posted By Carol Lake from Ewing, NJ United States
This season I wanted to use my gift money for a good cause and chose a basket and napkins as past of a housewarming/ Christmas present. I was disappointed when the package arrived and the basket was crushed deliberately to fit in a small box! I'm still trying to get the basket into its correct shape!! If you weren't a charitable organization, I would demand my money back! Napkins are lovely. I was planning on ordering more baskets for my home and others. I won't unless you guarantee they would arrive in correct shape. So disappointed!
We're sorry this was a frustration for you. We try to be upfront about how these are shipped by including that information on our website and in our catalog, and enclosing a card with each basket to explain how to reshape them by making them wet. If they were not smushed for more efficient shipping, the price would be significantly higher and we're concerned they would no longer be purchased, and we really want to support these basket weavers with employment.
Love this
Dec 30, 2020 | Posted By Kathleen Varnam from Bishop, CA United States
I love this little basket and keep it on a shelf on my bedside table. It holds things I might need or want during the night. After dipping it in a bucket of water for the specified time, it was easy to mold. The colors are beautiful!
Shipping issue
Dec 30, 2019 | Posted By Elaine from Fort Collins, CO United States
The basket is beautiful. It is a shame that you bent it to pack it! I read your directions and followed them to reshape the basket, but it will never be the correct shape again. Too bad you don't respect their work enough to ship baskets in a box that is the correct size. Very disappointed.
Hello we are very sorry for your disappointment and trouble. The weavers in Ghana actually pack the baskets tightly like this for international shipping - this saves us a significant amount of money on shipping so that we are able to offer these baskets at a more affordable price, and also saving space in shipping helps lower our environmental impact.
Beautiful, sizeable
Oct 24, 2019 | Posted By Michal from Boston, MA United States
This is my third basket of this type. Each one is beautiful and excellent quality. This particular example is bigger that I expected, big enough for a bag of onions or quite a few potatoes, with room to spare. It would help if your photos included items for size comparison.
Grasslands Basket
Oct 13, 2019 | Posted By Stephanie Hill from WEBSTER CITY, IA United States
LOVE the basket. It's small enough to fit on my dresser and brightens up a dull corner. It's also sturdy enough to carry things. The handle is great.
Larger than expected
Oct 13, 2019 | Posted By Michal from SOMERVILLE, MA United States
Absolutely beautiful, excellent quality, and quite a bit larger than it appears in the photos. It could easily store a full bag of onions, with room to spare for some potatoes. It would be useful if your photos would include items for size comparison.
A Tisket, A Tasket, A Blue and Green Basket
Oct 6, 2019 | Posted By Carole R. Fontaine from North Adams, MA United States
I love this happy little basket! It is beautifully made, and the substantial leather handle is a plus. Just the right size for traipsing things from one side table to bed, and back. Not big enough to hold 3 cats, though. For that, you need the bigger market basket, and they love it.