View Product Reviews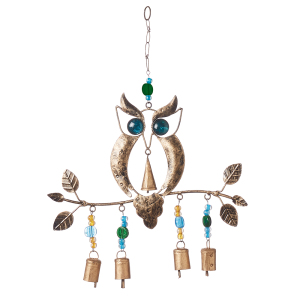 Happy Owl Chime
Apr 11, 2022 | Posted By Maryann from Fredericksburg, VA United States
Beautiful! A wonderful addition to the wind chimes on my front porch!
Owl Mobile
Mar 17, 2022 | Posted By Diana Solomon from Culver City, CA United States
The owl mobile is just beautiful! I love everything about it. The chime sound is lovely and the golden touch is really pretty. I first one I received was broken and that's the only reason I didn't give it 5 stars.
Recycled Owl Chime
Jan 2, 2022 | Posted By Carol Keeney from Montrose, CO United States
It is exactly as described. I love it! It brightens up my back yard.
Lovely Sounds
Mar 24, 2021 | Posted By Barbara from El Cerrito, CA United States
The sound of the owl chime tinkling in the breezes is very pleasant. Plus it looks nice hanging in my large tulip magnolia tree.
Owl love it
Dec 24, 2020 | Posted By Andrea LH Bonnar from Billerica, MA United States
Love birds and windchimes? Lovely addition to any woodland backyard
Owl wind chime
Jun 6, 2020 | Posted By Kathy Becker from Johnson City, TN United States
Hooooo Loves You Baby!
Jan 8, 2020 | Posted By Enza Ciaccia from DANBURY, CT United States
I absolutely love my Recycled Owl Chime! I had originally purchased one for my sister but quickly realized I had to purchase another one for myself! I have it hanging from my curtain rod in front of my back sliding door and it's the first thing people see when they walk into the room. It's beautifully made and the bells make a lovely cheerie sound!
This is adorable
Oct 10, 2019 | Posted By Jackie Geary from Owings Mills, MD United States
This owl is just lovely. Much larger and better made than I expected.