View Product Reviews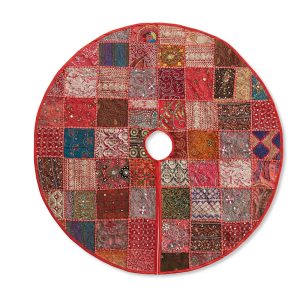 Blown AWAY
Jan 13, 2023 | Posted By Ashley from Temecula, CA United States
All of these comments about this skirt are SPOT ON! I don't even usually write reviews but this item deserves it. This thing sparkles in real life in a way that it's just can't in photos. It doesn't sparkle in a gaudy way either. It feels so special, and expensive. I hope to have this as our forever skirt. My husband (who gave me a hard time about it's price) said it's a shame we have to put gifts on it. Treat yourself and buy this thing!
Patchwork Tree Skirt
Jan 3, 2023 | Posted By Diane from Aurora, IL United States
Skirt is beautiful and well made. Love it!
Patchwork tree skirt
Dec 20, 2022 | Posted By Conrad Cole from Grand Junction, CO United States
Stunningly beautiful
Feb 3, 2022 | Posted By Belle from New Port Richey, FL United States
I am happy to have purchased this skirt right after Christmas 2021 to use every year going forward. Another reviewer's comment regarding displaying this skirt all year is no exaggeration - if possible, I would do so. I will certainly appreciate this year's holiday season to come. Christmas will start early this year!
Gorgeous colors
Dec 23, 2021 | Posted By Nancy V Baker from Las Cruces, NM United States
Replacing a nostalgic but shabby 20-year-old tree skirt wasn't easy. The new skirt had to be perfect. And this one is: crafted of various colorful and glittering pieces of fabric, it enhances the tree dramatically. It seems very well made by an artisan in India, and it's fair trade.
Beautiful!
Dec 22, 2021 | Posted By Diane from Carlisle, MA United States
I purchased this tree skirt as a gift for my grandson and his wife. She is from Nepal and I thought this gift would bring a little bit of her culture into the holiday season. The item is very well made and has hand sewn embellishments on it. It is also quite heavy and will not get all rumpled under the tree. I think it is very beautiful and I am excited to see them open the present in a couple of days!
Annie B
Dec 28, 2020 | Posted By Ann Willaman from Cranstin, RI United States
This tree skirt is simply lovely. I wish there was a way I could display it all year long. It's that pretty. Thanks you, SERRV, for something that will be used and enjoyed for many holidays to come.
Richly festive
Dec 2, 2020 | Posted By Vickie from North Attleboro, MA United States
This tree skirt is much more beautiful in person. The incredible detail and abundance of metallic threads, the rich colors and weighty fabric cannot be appreciated from a picture. The tree will look full even without the presents. I am delighted with this purchase. I have looked for a new tree skirt for some time and this is definitely worth the price.