View Product Reviews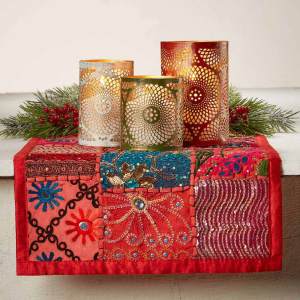 Lovely
Jan 16, 2023 | Posted By Kimberly Mcnutt from Silver Spring, MD United States
The item is beautiful and as pictured. Will be perfect at Christmas next year and can also be used to beautify the e everyday table. I am very happy that I bought it.
beautiful table runner
Dec 31, 2022 | Posted By Suzanne Rudalevige from Cape Elizabeth, ME United States
This is a truly lovely runner. I had intended to use it on my Christmas dinner table but it is so special that I used it in the living room where it would not run the risk of getting food spilled on it.
Patchwork table runner
Dec 9, 2022 | Posted By Mary Lu Brandwein from SAN DIEGO, CA United States
This table runner is spectacular. Very high quality craftsmanship. It is simply gorgeous and will add sparkle to any holiday.
Beautiful!
Jan 18, 2022 | Posted By Jen S. from Geneva, FL United States
The table runner is gorgeous and very festive. So glad I made this purchase!
Beautiful!
Dec 29, 2021 | Posted By Cathy Young from Camas, WA United States
Very unique... Very Beautiful!
online shopper for the unusual
Dec 21, 2021 | Posted By Carolyn Elliott from Palm Desert, , CA United States
This table runner is even more beautiful in the home. It is something that can be used everyday also.
Table Runner
Feb 9, 2021 | Posted By Angela Rottering from Webster City, IA United States
Beautifully Detailed workmanship! Absolutely worth the investment.