View Product Reviews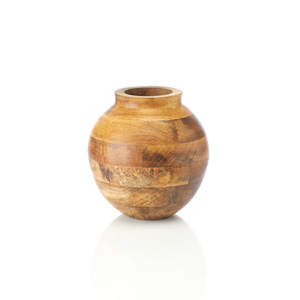 So happy I purchased this!
Jun 14, 2023 | Posted By Michele Aubin from Worcester, MA United States
You will not be disappointed with this beautiful vase! I was impressed by its thickness and how substantial it feels when you pick it up. The varying shades of the mango wood add to its beauty. I purchased the Rosebud Sola Stems to go with it and they look perfect together. Highly recommend.
Mango Wood Oval Vase
Dec 23, 2022 | Posted By Douglas from Saint Louis, MO United States
This Mango wood vase is designed with beautiful banding that exhibits the natural wood grain and gives the piece a unique presence. The vase shows outstanding craftsmanship and quality!
Smooth and waem
Jul 11, 2022 | Posted By Jean-Marie Allion from Hamtramk, MI United States
Everyone loves this wooden vase with its sbtje hues. One can almost taste the mangoes it once carried.
Beautiful
Oct 23, 2021 | Posted By Bridget Moore from Pioneer , CA United States
The oval vase and corn husk sunflowers are beautiful on our coffee table!
Mango Wood Oval Vase
Aug 28, 2021 | Posted By Mary L Morgan from HAYS, KS United States
Absolutely beautiful! Sturdy but very graceful, with great visual appeal due to the varied textures of the wood pieces. I marvel at the skill of the artisan who crafted this lovely object.