View Product Reviews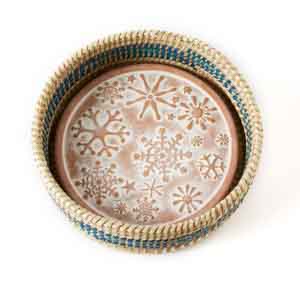 This Bread Warmer is a keeper!
Dec 30, 2022 | Posted By Terri O'Neal from Meridian, ID United States
Confession...I bought this for a Christmas gift and loved it so much kept it for myself. Gorgeous! Keeps rolls nice and warm.
Snowflake breadwarmer
Dec 12, 2022 | Posted By Nancy from N. Chesterfield, VA United States
I purchased this for my daughter-in-law who loves making and serving bread. The stone is exactly as it looks, sturdy and pretty. The basket is beautiful, well made and strong. Very pleased with my purchase.
great bread and tortilla warmer
Jul 5, 2021 | Posted By Caroline Matz from Bend, OR United States
I am glad I found SERRV, and like supporting women and entrepreneurs. This basket and warmer work wonderfully keeping my bread and my tortillas warm until served.
Perfect gift
Jan 18, 2021 | Posted By Sharon from Annapolis, MD United States
The basket is attractive and well made. I bought it for use at home and it is something that gets used frequently. It would be the perfect housewarming gift. I also feel good about helping others. It's a win/win.
Bread Warmer
Dec 13, 2020 | Posted By Camella Gonzalez from Debary, FL United States
I bought this bread warmer for myself a few years back, then purchased one as a gift for a friend. Another friend saw it and admired it, so I bought one for her as a Xmas present. We all think they are great!
Snowflake Breadwarmer
Dec 10, 2020 | Posted By Camella Gonzalez from Debary, FL United States
This is the third breadwarmer I've purchased. I bought one for myself, then one for a friend. Another friend saw them and said how much she liked them, so now I've purchased one one for her.
Snowflake Bread Warmer
Dec 8, 2020 | Posted By Lisa Furbush from Forked River, NJ United States
These are beautiful. I bought several as gifts for the holidays. They were a big hit.
Excellent piece!
Dec 5, 2020 | Posted By Kim Albert from Decatur , IL United States
I absolutely love this bread basket! I own one already so I ordered this one for my mother in law. The stone keeps your bread warm and toasty. I highly recommend buying one of these!
Mrs
Nov 27, 2019 | Posted By Kathleen Boulanger from Tilton, NH United States
I ordered 2, one was beautiful and one was not. Maybe bad one made by a beginner. Kind of larger and not round and tight. Called and told them and I had to pay return shipping of 11.60 to get refund on the one. Not happy.
Bread warmer basket
Nov 23, 2019 | Posted By Donna from Brooklyn, NY United States
Beautiful piece..will be using for a Thanksgiving dinner
Great Gift!
Nov 11, 2019 | Posted By Lynda from St Louis, MO United States
I purchased 2 of these bread baskets to give as Christmas gifts. The stones are beautiful & the baskets look great with them. I'm certain my gift recipients will love them!