View Product Reviews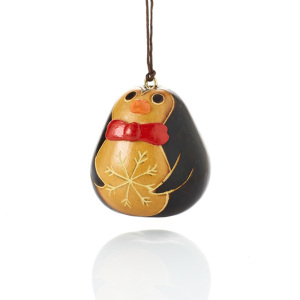 Perfect Gift for Anyone
Nov 24, 2023 | Posted By Abigail Richmond from Port Orchard, WA United States
Handsome little fellow. Perfectly crafted with impeccable detail. Perfect to give to anyone or to hang on your tree.
Adorable ornaments!
Jan 3, 2022 | Posted By Linda G Reardon from Ware, MA United States
These adorable ornaments made with tiny gourds and hand painted are absolutely the best! Great quality and craftsmanship. Also, love that they are made in a way to allow women to support their families.
Gourd ornament
Jan 1, 2022 | Posted By Cathy Adams from Englewood, TN United States
Extremely Cute Penguin
Jan 25, 2021 | Posted By Karen from Lancaster, CA United States
I am a penguin lover and this ornament added greatly to my Christmas celebration. It is beautifully made in a calm, understated way. The craftsmanship is great. Thank you so much!
Love this little gourd pengin!
Dec 28, 2020 | Posted By Carolyn Abels from Kansas City, MO United States
The gourd ornaments are wonderful. Very well made and cute. I purchased this one for my daughter who collects penguins.
So cute
Dec 23, 2020 | Posted By Judi from West Richland, WA United States
Such a cute ornament for the tree. I will get more next year for gifts! Love it.