View Product Reviews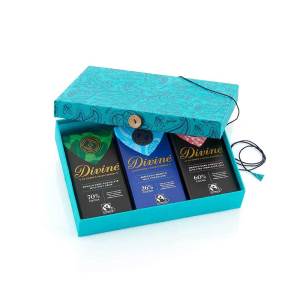 Excellent gift
Feb 3, 2023 | Posted By Nicole from Tampa, FL United States
We have given the Grande Sampler to family as gifts for long enough I think we'd be in trouble if we stopped giving them! They have a wide selection of flavors, and all are high quality chocolate. This sampler includes milk and white chocolate.
Repeat buyer
Jan 18, 2023 | Posted By Ruth Howe from Cuyahoga Falls, OH United States
I try and buy a gift every year from your catalog. This year I purchased several boxes of mixed chocolate bars . Everyone one I gave as a gift was enjoyed by the recipient! And my husband and enjoyed them too!
great chocolate
May 21, 2022 | Posted By joanne tanner from Boulder Creek, CA United States
Great chocolate! Really enjoying all the different flavors in the assortment. And good to know the source.
delicious
Dec 22, 2021 | Posted By Stephen D. Fox from Englewood, FL United States
An extremely varied and creative selection of chocolates like nothing I have ever encountered before. They made great gifts--that is, the ones we managed to make ourselves part with!
Yummy Chocolate
May 28, 2020 | Posted By Vicky Rhodes from Vancouver, WA United States
I have ordered various Divine chocolates in the past and have never been disappointed. They always taste great. My coworkers are always excited when I bring some in to share; they practically fight over them! Keep up the good work!
Great chocolate
Oct 27, 2019 | Posted By Brian Corbin from Alexandria, VA United States
Sent as a wedding anniversary gift to good friends...they loved it.