View Product Reviews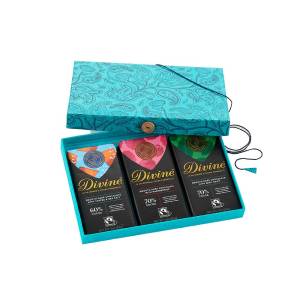 Best Chocolate
Apr 7, 2023 | Posted By Mary Harris from Rolla, MO United States
This is the best chocolate you can buy anywhere. Delicious variety and dreamy smooth.
Delicious Chocolate
Feb 22, 2023 | Posted By Mark Hallinan from New York, NY United States
I often make a gift of this chocolate. Those who receive it uniformly praise it for its distinctive flavor. It is on par with premium brands like Lindt.
Best Dark Chocolate
Feb 3, 2023 | Posted By Nicole from Tampa, FL United States
We give both this and the Grande Sampler as gifts: the Grande Sampler is great for those who like milk and white chocolate, but for the true chocoholic, this is my pick. They're all dark, but they have a good variety, and my mouth is watering just thinking about it.
Lovely box, great candy
Dec 17, 2022 | Posted By Marianne Arbogast from DETROIT, MI United States
The box is lovely and I know from past experience that the candy is delicious. (It's a gift, so I haven't tasted it this time!)
Changing shipping addresses
Dec 15, 2022 | Posted By Miriam Dunbar from Mancos, CO United States
The chocolate was great and delivery was quite good. My only issue was trying to change the shipping address. I was paying with PayPal, and it took me several days to realize that there was no way to change the shipping address if I paid that way. It would be great if that could be fixed.
Exquisite chocolate
Feb 25, 2022 | Posted By Mary Harris from Rolla, MO United States
Some of the best tasting chocolate I've ever had!
Delicious
Dec 26, 2021 | Posted By Mary Harris from Rolla, MO United States
All the flavors were great. My favorite was raspberry.
first time serrver
Dec 13, 2021 | Posted By Erinn P Hughes from Southport, NC United States
perfect gift for the chocoholic!
great gift
Feb 3, 2020 | Posted By Beth Luey from Fairhaven, MA United States
I sent these chocolate bars to an ailing friend, and they were much appreciated. It's wonderful chocolate!
Vegan's favorites.
Dec 20, 2019 | Posted By Vincen from St-Calixte, QC Canada
The dark chocolate selection in this carefully crafted box is so good. The traditional symbols inside the wraps educate us on traditional culture as well.
Really Good
Oct 26, 2019 | Posted By Daniel Minuchin from Brooklyn, NY United States
Bought these as a gift for someone, and they told me that they were perfect and were just what she needed after a difficult week.