View Product Reviews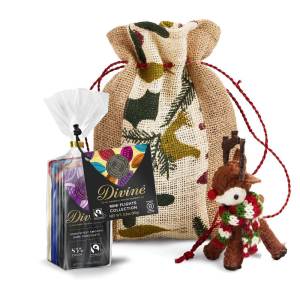 Lovely and versatile
Dec 4, 2022 | Posted By Catherine Dowdell from Bozeman, MT United States
This little gift bag is my go to this holiday season. It works for so many people on my list. I start with what it comes with and add an item such as jewelry, homemade candies, or a personal care item like soap or an essential oil. The possibilities are endless!
Adorable and yummy!
Jan 8, 2022 | Posted By Debra A Gibson from Caldwell, NJ United States
Ornament is adorable and the tiny chocolate bars were truly delicious. Even the little sack they came in was charming. A very nice little gift!
Excellent Gift bag +
Nov 16, 2021 | Posted By Cherie Endrihs from ENTERPRISE, AL United States
A well constructed and cute gift option with room for a bit more if you want it. The chocolate is yummy too!
Handy pouch
Dec 17, 2020 | Posted By Kathy Wicks from West St Paul, MN United States
Using for my coloring pens
Sweet Things Gift Pouch
Dec 1, 2020 | Posted By R.O. from Orange, CA United States
Cute gift for anyone. Ornament and gift bag made with nice quality.
Candy
Nov 23, 2020 | Posted By Anna Webster from Danvers, MA United States
perfect
Dec 19, 2019 | Posted By Stephanie Spicer from PENFIELD, NY United States
This is just a perfect item to give as a gift. I was so pleased with it. Will order more because I can't give this one away.
Great gift item
Dec 13, 2019 | Posted By Teresa from Temple City, CA United States
I ordered three to give as gifts. They look great and am well satisfied.