View Product Reviews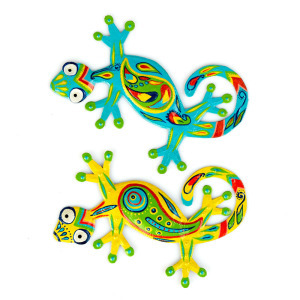 Geckos Wall Art - Set of 2
Sep 14, 2021 | Posted By Regina from Brooklyn, NY United States
Love my geckos! As cheerful as they are, they also remind me of the serious ongoing need for solidarity with the people of Haiti. The only thing I would change is the triangle ring placement, since I think the geckos look best with their tails up. (I've suspended them from cafe curtain hooks in my kitchen.) Placing the triangle ring in back of the abdomen rather than in back of the head would allow for more choices.
adorable!
Jul 14, 2021 | Posted By bootsy from Ocean Shores, WA United States
I love these little geckos. They're climbing up the kitchen wall next to my clock, so I see them all the time. The handiwork is beautiful. Fun, bright colors.
Colorful and Fun
Jul 21, 2020 | Posted By Christina Rampley from Chula Vista, CA United States
These geckos are very fun, colorful, and completely charming on the bathroom wall.
For the patio
May 16, 2020 | Posted By Pat Moyer from Flower mound, TX United States
A little whimsy to brighten the patio.