View Product Reviews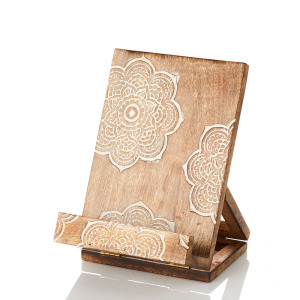 Nice stand
Aug 7, 2022 | Posted By Julie from Middlebourne, WV United States
I purchased this to use for recipes and for my tablet. It works great for both. I love to cook and propping my cookbooks up on this stand makes it so much easier for me to read the recipe. I also use it for my tablet for when I'm talking to my children or browsing the internet.
Simple and Beautiful
Jun 8, 2022 | Posted By Ann Farrer from Lexington, KY United States
The details in the Mango wood are beautiful and the stand is so practical and helpful in the kitchen while using a cookbook or propping up a digital device to read recipes.
love Serrv products
Feb 2, 2022 | Posted By Carol Ann Young from Fredericksburg, VA United States
The first time I saw this in your catalog I immediately tried to order it but it was out of stock. I've been keeping track of it for the last year and finally got it!! So glad I persisted. It's just the right size, I love the look and the fact that it folds up. I can also use it to support my Kindle when I read while I eat (which is most of the time).
Beautiful!
Oct 25, 2021 | Posted By Lynn B Coletta from Lebanon, CT United States
It's beautiful and practical, especially with large recipe books!
Cooking made easier!
Oct 3, 2021 | Posted By Georgina Whitton from Jupiter, FL United States
A very useful addition to the kitchen. Keeps my recipe books away from food yet easy to read!
Beautiful Workmanship
Apr 20, 2021 | Posted By Eileen Oddo from White Plains, NY United States
I ordered this as a gift and I love it so much I'm ordering one for me!
lovely design
Jun 7, 2020 | Posted By Joan from Oxford, OH United States
I'm really enjoying my recipe book stand--works for my Ipad too!
Great Recipe Stand
Jun 6, 2020 | Posted By Wendy S Watson from Columbus Junction, IA United States
I purchased this to keep my recipes off the counter when I cook (I am very messy!). This stand is smoothly sanded, not too large for my counter, well made and exactly as pictured! I love it.
Gorgeous
May 28, 2020 | Posted By Selma from District of Columbia, DC United States
This is so beautiful and makes a great gift. I use it on Zoom meetings as well as a cookbook stand. Well made and gorgeous to look at.
Lovely recipe stand
May 13, 2020 | Posted By Sue Klapholz from Stanford, CA United States
This recipe stand is compact and very functional, as well as lovely. I bought one for myself and another as a much appreciated gift.