View Product Reviews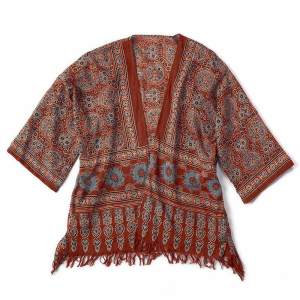 Sahana Kimono
Nov 7, 2022 | Posted By Mary Beth from Stillwater, OK United States
As another reviewer has written, this garment's colors are not as pictured online on in the catalog. The actual red color is a rusty brown which just isn't as attractive as the cranberry color pictured. The light blue color is actually gray and the sleeves are WAY long. I agree that sizing for smaller women would be most helpful. This garment is more suited to a tall, large person. I received it as part of an order placed by our Fair Trade Store so didn't have the opportunity to see it before actually buying it. So disappointing.
Not for small people
Sep 8, 2022 | Posted By Bonnie Bezila from Mount Airy, MD United States
It's too bad this kimono does not come in sizes. I could have put two of me in this thing! It is HUGE!! Returning it.
Sahana Kimono
Jun 21, 2022 | Posted By Sarah Melissa Johnson from Putney, VT United States
I love the fabric of the kimono, which is why I ordered it. It is a bit too big for me, so I will have to take it in and also plan to hem it. I don't care for the fringe detail but appreciate the beauty of the colors and designs.
SAHANA KIMONO
May 9, 2022 | Posted By Monika Kozakowski from Steilacoom, WA United States
Sadly the tan/red colors of the Kimono were different than displayed in the catalog and website, where they appeared more like a dark red and not like a tan/brown. Maybe some photo editing could help prevent this disappointment.
Kimono
Apr 28, 2022 | Posted By Susan Valent from Yulee, FL United States
This kimono is light and airy but the catalog photo gives it the appearance that it is more fitted and shorter on the sleeves and length. This one-size fits all is boxy and unconstructed and not flattering.
Beautiful!
Mar 18, 2022 | Posted By Lisa Johnson from Carrollton, TX United States
This kimono is lovely. It is nicely made and fits me well - I am petite and curvy.
Delighted
Feb 27, 2022 | Posted By Marion Malcolm from Eugene, OR United States
I invited my daughter-in-law to select something from the SERRV calalog, and this is what she chose. It arrived on time and she was just delighted with it.
Lovely summer kimono
May 10, 2021 | Posted By Morgan from Bristol, IN United States
This is a lightweight, almost gauzy kimono that will be perfect over a tank top on hot summer nights. It also looks nice over a long sleeve black top or turtleneck. The colors and craftsmanship are really beautiful. It is flowy and covers my bum, so will be great to wear with leggings. Very "boho" and stylish. This kimono top is worth the money. I love it, and I love supporting SERRV artisans!
PERFECT ADDITION TO JEANS AND A TEE!
Apr 18, 2021 | Posted By Eileen from Hilo, HI United States
I love this top! Besides being comfortable, it's cool and airy and is great to throw on with a pair of jeans and a tee. I haven't washed it yet but am hoping for the best.
Not quite as bright as I expected
Mar 18, 2021 | Posted By Janet from Columbus, OH United States
The colors of this "kimono" are not quite as bright as they appeared on my monitor, and the material is very thin. I will wear it over a tee with jeans in the summer.
Pretty But Thin
Feb 24, 2020 | Posted By Catherine Stephenson from Mary Esther, FL United States
Very pretty but the fabric is very thin. But that might be just the thing this summer.