View Product Reviews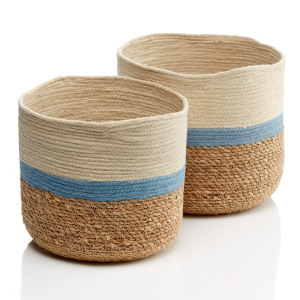 Better than expected
Jul 20, 2023 | Posted By Shelby K Vaske from Paynesville, MN United States
I finally ordered these lovely baskets after looking at them many times. They are more beautiful than I expected and larger as well. The smaller one has been put to use as a wastebasket and the larger one will be used for storage. They didn't disappoint!
baskets
Jul 18, 2023 | Posted By Jane Middlesworth from Havre, NE United States
I bought these to keep the onions in the kitchen. They work fine -- I put a flat stone underneath to help keep them dry.
Love these baskets
May 7, 2020 | Posted By Katherine Wasson from Edmonds, WA United States
I've purchased many baskets from SERRV and loved every one. These I'll use for current knitting projects. Packing baskets for shipment is exceptional. Never disappointed. Definitely, a great purchase for ANY home.