View Product Reviews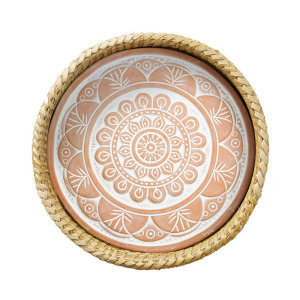 LOVE IT!
Dec 4, 2023 | Posted By Marianne from Port republic, NJ United States
I bought a few for gifts and myself. They are beautiful. Everyone loved them. Thank you!
Great price!
Nov 23, 2023 | Posted By Isa from NC United States
Great price for a very useful product.
Excellent Quality
Mar 22, 2023 | Posted By Paula Thompson from Bend, OR United States
I ordered 5 of these bread baskets. They all arrived in perfect condition, very well packed. They are a work of art, and loved by all my friends. The service was prompt and the communication was great. I will order again from SERRV! THANKS for all you do!
Beautiful Bread warmer basket
Dec 29, 2022 | Posted By Maggie Pugh from Nampa, ID United States
I got this for a housewarming gift for our daughter and family and it is beautiful! They love it and said it stays warm a long time.
Beautiful bread warmer
Dec 29, 2022 | Posted By Tammy from Arlington, TX United States
This is the third bread warmer I've either received or purchased. This one was purchased as a Christmas gift for a friend. I also purchased the Snowflake bread warmer. I received the Piece Dove warmer last Christmas. These are beautifully crafted. I absolutely love these bread warmers.
Great fit and style
Apr 9, 2021 | Posted By Betty Anderson from Jurupa Valley, CA United States
I bought this as a gift for my daughter. I also bought a different style one for my daughter-in-law two years ago. They both love them and use them regularly.
Breadwarmer
Sep 14, 2020 | Posted By Pat Bell from Copley, OH United States
These breadwarmers are great for wedding or home gifts. They look amazing and do their job. Beautiful designs on the terracotta makes for a nice table setting.
Great quality
Apr 13, 2020 | Posted By Heather Muller from Boulder, CO United States
This looks really well made. I can't wait to use it.
Beautiful
Mar 22, 2020 | Posted By Lloyd E Dodd from Granbury, TX United States
The bread warmer is beautiful and will be perfect for serving at small events.