View Product Reviews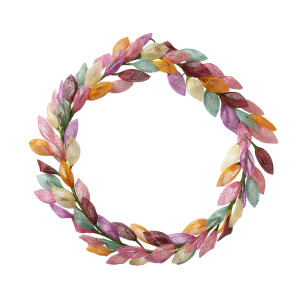 Perfect
Jul 11, 2022 | Posted By CAS from Wrenshall , MN United States
I had been looking for a wreath to go above a guest bed for some time. This beautifully made wreath is absolutely perfect for this room. It arrived timely, and with a minute or two of fluffing, up it went. It adds a lovely a pop of color.
Lovely
Mar 21, 2022 | Posted By Sigrid from Santa Clara, CA United States
Lovely wreath. Just needs a bit of fluffing upon unpacking. Can be used year after year and is not too bulky like some others.
Lovely wreath
Apr 2, 2021 | Posted By Ann from Green Bay , WI United States
Had positive comments as soon as I hung it on front door. Great as is but even prettier when the blossoms are rearranged and wreath is fuller. Great value.
Pastel Wreath
Mar 26, 2021 | Posted By Darlyne Watts-Jurgens from Belvidere, IL United States
Very pretty but the picture in the catalog makes it seem fuller than it actually is.
Spring Colors
Apr 17, 2020 | Posted By Kimberly Poulton from Westport, MA United States
Love the delicacy of this colorful wreath for Spring - however, the picture shown appears much fuller than what I received.
Lovely wreath!
Mar 31, 2020 | Posted By Emily from WICHITA, KS United States
Ordered this wreath for my mom and myself, and we're both very happy with it! It seems very well made (like all Serrv products I've gotten) and is a perfect cheerful wreath for my front door. I had been looking for a seasonal wreath for spring/summer, and this fits for both perfectly.