View Product Reviews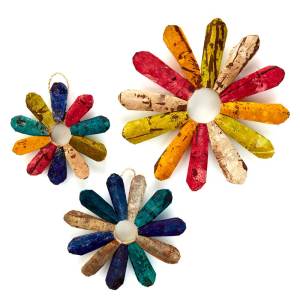 Faded fast
Dec 6, 2022 | Posted By Cherry Coss Edwards from Cool, CA United States
These were absolutely beautiful for about 3 months and then faded and the bark part came off. Super disappointed.
Rustic Wallflowers
Nov 9, 2021 | Posted By Terri Coupel from BATON ROUGE, LA United States
These are so beautiful and unique, just as I imagined they would be. I am in awe of all the artisans who partner with SERRV.
Unique but delicate
Dec 20, 2020 | Posted By Carrie Cruz from Williston, VT United States
I purchased these to put on the outside of my house-- with a few coats polyurethane they are perfect HOWEVER the large flower arrived broken one of the "petals" was peeled in half and a few petals on the smaller flowers were peeling as well. I wood glued the smaller ones and called customer service about the largest flower. The rep happily agreed to replace the larger unrepeatable flower but I have yet to receive it-- I am hopeful it will arrive soon. These are very unique pieces-- be aware the dye on them is not permanent. They bled a lot while I was coating the flowers for outside use. Just be careful in where you place the flowers so if the dye runs, it doesn't ruin anything.... 5 stars for uniqueness and charm 1-2 stars for quality and durability
Thank you for this feedback so we can improve this product.
Cute, but disappointed
May 17, 2020 | Posted By Karen from Belmont, MI United States
These are very cute in the pictures. It is hard to really know the construction and durability of a product from a pic. They are smaller than I had imagined. and the hanging rope does not allow the flowers to hang straight. A loop right on the back of the flower would be better. This is the first item I have purchased from Serrv that disappointed me. I feel the price is high for this item, But I am keeping them.