View Product Reviews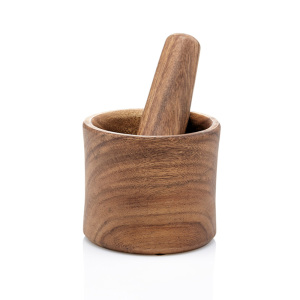 Impressive
Aug 18, 2023 | Posted By Cindy from Pensacola , FL United States
This large mortar and pestle are well- made and the wood is gorgeous. It's a gift that will be well received.
Beautiful!
Jul 20, 2023 | Posted By Mary from Sacramento, CA United States
Beautiful and sturdy. Will enhance any decor.
Great product for the cook!
Feb 2, 2023 | Posted By Louise Gerlak from Cleveland Heights, OH United States
Loved the Quezon Mortar and Pestle I received from you recently. I appreciate that it's handmade of natural woodgrain, hard acacia wood that's thick, and certainly looks attractive in my kitchen on display. Furthermore, I expect it to be durable and last a long time. I'm looking forward to using it in my kitchen to quickly and easily hand grind dried herbs, flowers, and spices. The mortar's surface should withstand the impact with the pestle for grinding hard peppercorns; dried cardamon pods; oregano, lavender, thyme leaves; cloves; red pepper flakes; saffron threads; and fennel, coriander, and rosemary seeds. This will enable me to handily make my own homemade chai mixes, spice rubs, five-spice powder, salt blends in small, ready to use batches. It will also enable to add fresh spices and unique seasonings from my own garden into more of my cooking which should also be healthier. This is replacing my old marble mortar and pestle which broke repeatedly and wouldn't hold up with repair.
beautiful!
Feb 19, 2022 | Posted By Kathleen Crittenden from Viroqua, WI United States
This mortar and pestle set is beautiful and very functional.