View Product Reviews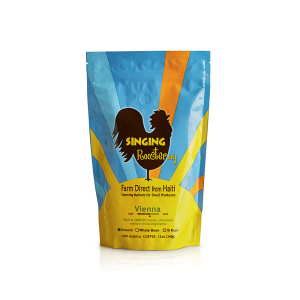 Delightful!
Jul 17, 2023 | Posted By Laurel Martinez from Grand Rapids, MI United States
Very flavorful coffee! I use the ground in my percolator and it works very well. Cost is only slightly more than the coffee from my local grocery stores and I can feel good drinking it because it's both delicious and the right choice for the world!
An Excellent Coffee
Jul 5, 2023 | Posted By Donald Mackowski from Enola, PA United States
I keep coming back to this coffee, because in my opinion it is excellent. It leans strong a bit, but it is nicely balanced. Wish it were decaf, because that is what I am suppose to drink, but hey I wont let an excellent coffee be the enemy of the perfect.
Great coffee
Jun 15, 2023 | Posted By Janet Rarick from Ttiusville, PA United States
Singing Rooster coffee is one of our favorites. We also like supporting the Hatian people. Great service by SERRV.
Morning Coffee
Feb 6, 2023 | Posted By Bill from North Riverside, IL United States
Very good coffee. I have tried all types and continued to purchase these as It's nice changing up flavors. I love that we support small growers and fair trade. Have given as gifts and people enjoy them.
Support Haiti
Jan 29, 2023 | Posted By Cheryl R Coon from Bedford, IN United States
Best morning coffee
Dec 29, 2022 | Posted By Kathy Partridge from Longmont, CO United States
I love the balance and flavor of this medium roast.
Great Coffee
Feb 16, 2022 | Posted By Marsha from VANCOUVER, WA United States
I'm a member of a coffee club, but I bought Singing Rooster from Serrv. It is just about perfect - smoothness, deep flavor, well balanced. I just ordered 3 more bags!
Singing Rooster coffee
Jan 15, 2022 | Posted By Basha from St. Petersburg , FL United States
I love this coffee. I actually bought some in Haiti. Haiti is the poorest country in our hemisphere and it is a Very good thing to support their coffee growers
Good coffee
Sep 2, 2021 | Posted By Cynthia Bachofer from AUSTIN, TX United States
I look forward to it every morning-very smooth & mild. I would get it again.
Very Lightly Roasted
Jun 14, 2021 | Posted By Karen Lerner from Parsippany, NJ United States
The flavor is good, mild. It's very lightly roasted - so if that's your thing, you'll enjoy this. If you prefer a more fully roasted coffee, this might not be for you.
Oh, Oh
Feb 16, 2021 | Posted By Joni Cordell from Tensed, ID United States
I ordered the whole bean by mistake. I ordered the ground last time and loved it. I do have a grinder, so I am anxious to try it.
Good coffee
Feb 9, 2021 | Posted By Mary C Boettcher from Germantown, WI United States
My husband and I like to have a different coffee on the weekend other than our usual. We enjoyed this one. It has a good flavor and isn't bitter.
Love Love Love
Feb 7, 2021 | Posted By Elizabeth from Crestwood, KY United States
Huge coffee drinker and this blend is by far one of the best I have ever had. Smooth and rich.
Not a fan.
Dec 13, 2020 | Posted By Dianne Finnegan from Beloit, WI United States
Wasn't very excited about the flavor.
My favorite coffee
Aug 31, 2020 | Posted By Gail Obenauf from SAUTEE NACOOCHEE, GA United States
We buy multiple bags of this coffee. Love it. Not only fair trade but it is my favorite coffee bean.
Haitian Coffee
Aug 14, 2020 | Posted By Frantz Sainvil from Davie, FL United States
Light and flavorful
Jul 9, 2020 | Posted By Mallory from Hampstead, MD United States
I enjoyed this very much and would consider giving it as a gift in the future.
Wonderful brew!
May 8, 2020 | Posted By Jahzara Sushaunna from Southfield, MI United States
I love this coffee. I used my french press and brewed it for only 4 minutes and it was perfect. Smooth and delicious. Try it!
My wake-up coffee
Jan 31, 2020 | Posted By Suzanne Landis from Biglerville, PA United States
Every morning I wake up to drink Singing Rooster Coffee while I commune with God in prayer. When I drink coffee at a friend's house or in a restaurant I rarely find any that tastes as rich and delicious as that first cup of Singing Rooster.