View Product Reviews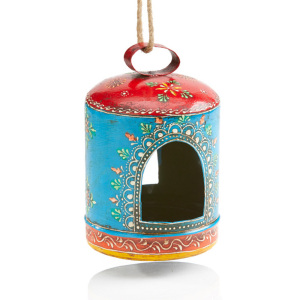 My second feeder
Nov 21, 2023 | Posted By Karyn Gibson from St. Louis Park, MN United States
This is my second feeder; my other one want through some really rough weather over the past few winters. I'll be spraying this one with a clear protective coat and hanging it in a little more protected site. LOVE the beautiful colors and artistry. Might have to get one of the other items in this painted grouping.
Bird feeder
May 10, 2023 | Posted By D. Raymer from Madison, WI United States
Beautiful, small bird feeder--just right for my tiny balcony.
online shopper for the unusuali
Dec 21, 2021 | Posted By Carolyn Elliott from Palm Desert, AL United States
This painted bird feeder also caught my eye along with the red one in the catalog so, of course, I had to have both of them. Love them and they look great in yard.
Beauty for Birds
Nov 25, 2020 | Posted By Tracy Weeks from Yarmouth Port, MA United States
This is absolutely adorable and the paint is so vibrant! It will make a great addition to my daughters deck!