View Product Reviews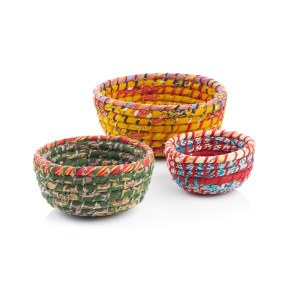 Teachers Love Them!
May 28, 2022 | Posted By MaddieGG from Atlanta, GA United States
I bought several sets of these bowls for my children to give to their teachers. Each trio was totally different from all the others and it was fun for the kids to pick which set to give. The response from the teachers was very positive and as a former teacher myself, I know how much I appreciated a unique gift. I give SERRV gifts for Christmas and the customer service is great so I highly recommend them!
These are beautiful baskets
Feb 26, 2022 | Posted By Linda Culp from Marriottsville, MD United States
I look forward to placing another order for these baskets. I have received great reviews on them from shoppers.
Great Buy
Feb 21, 2022 | Posted By Belle from Dunedin , FL United States
Lovely baskets, vibrant colors, fine craftsmanship-what more needs to be said!
NICE
Feb 6, 2022 | Posted By HELEN GAILFUS from BLOOMINGTON, MN United States
VERY NICE. PRACTICAL AND USABLE.
Nice baskets!
Jan 21, 2022 | Posted By Lisa Duan from Glen Burnie, MD United States
These sturdy baskets are perfect for a variety of items. The colors I received are darker than the photo shown, but they blend in well with my decor.. I love that they are handcrafted and not exactly the same.
Nice but much darker
Aug 9, 2021 | Posted By ANGELA NELSON from PULLMAN, WA United States
Nice sizes and quality but the colors I received were much darker than I expected, in a black-gold-red spectrum. I would not have ordered them if I had known. Different colors that still looked overall bright and multi-colored would have been fine, but the picture doesn't represent the kind of colors I received, so I docked a star. Still, the baskets are nice and I'll use them.
Sweet
Jul 22, 2021 | Posted By Moxie Fair Trade & Handmade LLC from Taos, NM United States
Sweet, colorful & a great price -- these look wonderful on our shelves & sell well.
Beautiful
May 15, 2021 | Posted By Terrie Carpenter from Coventry, CT United States
Very pretty- as described
Great little baskets with a great little price
Feb 19, 2021 | Posted By Martha from Whitefish, MT United States
These baskets came quickly and were just what I was looking for. They have great colors and seem to be well made. Loved their price also. I store various varieties of garlic in them.
Can't have too many
Dec 27, 2020 | Posted By Nancy Parker from Mystic, CT United States
I have bought multiple of these sets and use them as gifts or to hold gifts. They are colorful, delightful baskets.
Lovely
Dec 1, 2020 | Posted By Mary Lou from Louisville, KY United States
They are lovely. I have them on my table in my dining area.
Attractive and reasonably priced
Nov 28, 2020 | Posted By Parkerbear from Mystic, CT United States
While there isn't a color choice, mine arrived in colors I would have chosen. Three people who saw them on my counter wanted them. They are perfect containers for small gifts.
Chindi round nesting baskets
Oct 7, 2020 | Posted By Bobbie Jean Allen from Dallas, TX United States
This set of 3 baskets are so cute. I am so glad I bought 2 sets so that I can keep one and give one away.