View Product Reviews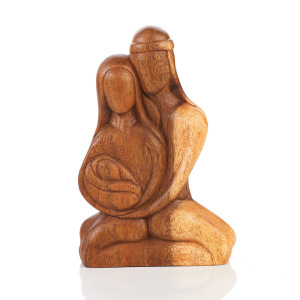 Holy Family
Dec 3, 2023 | Posted By Linda from Keystone Heights, FL United States
This beautifully carved nativity scene will be a gift but I am to buy another to keep. The one I received does not have a variation in color as shown in the photo. It is one uniform shade.
nativity
Jan 29, 2023 | Posted By Lois Schultz from Attica, MI United States
Elegant and lovely carving
Jan 18, 2023 | Posted By Rebecca from E. Stroudsburg, PA United States
I wanted a compact nativity set and this is so perfect that I decided to put it in my library all year round. The carving and the wood is beautiful and they go perfectly with two Nigerian carved praise figurines. This is just beautiful.
Acacia Carved Family
Nov 17, 2022 | Posted By Bernadette O'Connell and Jerry O'Connell from Cincinnati, OH United States
I think it is beautiful. However, I have yet to hold our Christmas market so I can't know how it will be received by our patrons.
larger than expected
Jan 18, 2022 | Posted By Mary Lou Cox from Monterey, VA United States
I returned this nativity because it was much larger than I expected. Thank you for your consistent good service!
Great Christmas gift
Nov 12, 2021 | Posted By David Smith from Rochester, NY United States
I got this for my wife for Christmas. She loves sculptures of the holy family. This one is truly unique and unforgetable.
Still waiting.....
Dec 23, 2020 | Posted By Kathleen Dickensheets from BIRMINGHAM, MI United States
Unfortunately, I am still waiting for my order. :(
Nativity/Holy Family
Dec 1, 2020 | Posted By R.O. from Cypress, CA United States
Beautiful piece. Arrived safely wrapped. Perfect Christmas gift.