View Product Reviews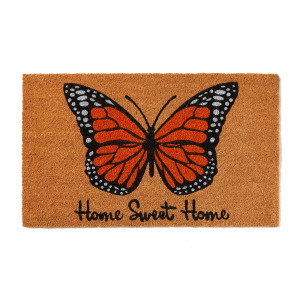 Beautiful butterfly mat
Sep 26, 2022 | Posted By Jennifer from OREGON, WI United States
This mat is gorgeous, the butterfly image is beautiful. When I first put it out on my stoop, some brown color leached out of the mat and onto the concrete when it rained. After about a month, that has stopped. Note that the mat does hold a lot of rainwater...I usually flip it upside down and put it in the sun to dry after a rain. I really love the way it looks at my door though, so it's worth the trouble.
Lovely Door Mat
Feb 1, 2022 | Posted By Diane Farley from Township of Washington, NJ United States
Love this well made door mat. I love the size, the beautiful butterfly motif, the thickness, etc. Couldn't be happier with this purchase.
Beautiful door mat
Jan 24, 2022 | Posted By Diane Farley from Township of Washington, NJ United States
I bought a doormat with cardinals pictured on it for myself and 3 of my friends at Christmas. I got rave reviews from them and I liked mine so much that I ordered 2 of these butterfly doormats for the Spring. They are also beautiful and well made.
Happy to Come Home
Apr 30, 2021 | Posted By Lynn from Houston , TX United States
It makes me happy to come home was the comment I got from my hubby after seeing the butterfly mat. This was said by a person that really doesn't notice things as mundane as a door mats! The quality is very good as well. It's very thick and on my porch (which is tiled) it doesn't move very much.. It also very much brightens up the entryway!
Love it!
Apr 18, 2021 | Posted By Wendy from Culver City, CA United States
We recently got our beautiful Monarch Butterfly Welcome Mat and love it! It is beautiful. We will have to wait to see how it holds up, as we just got it.
Butterfly Welcome Mat
Apr 1, 2021 | Posted By Taryn from Berkeley, CA United States
We ordered this mat for our beloved neighbor; we help propagate monarchs and call him the Butterfly King. This mat brought happy tears to his eyes! It is of wonderful quality!