View Product Reviews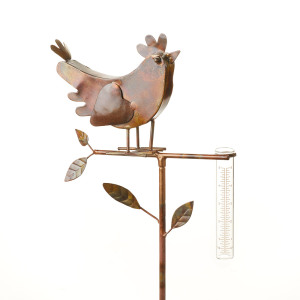 Rooster Rain Gauge
Jul 15, 2023 | Posted By Sharon from Lisle, IL United States
Cute little rooster stands proudly waiting to measure the rain. Gauge is hard plastic, easy to read measurements. Love this guy! So cute. Adds charm to any garden. Got one for me and a month later bought it as a gift. Sturdy. Well made. Cute. Fun. Measures rain.
Rooster Rain Gauge Stake
Jan 11, 2023 | Posted By Barbara Loomis from Shoals, IN United States
This was a great gift. It came apart, so it transported easily. It came with no damage, due to the sturdy double boxes. Couldn't have been better.
Beware: May turn you into a rain-measuring nerd
Jan 9, 2023 | Posted By Stephanie Lindemann from Atlanta, GA United States
I love this so much. It's so cute in the garden and now I've started a spreadsheet to keep track of the rainfall. Good to know, actually, so I'm more aware of when I need to water.
Garden Fun
Jul 11, 2022 | Posted By Jean Gavril from Chappaqua, NY United States
This rooster rain gauge is a great addition to our garden. It is very sturdy and the glass gauge is of good quality. I never thought of measuring rain before, but now I'm anxiously waiting for our next storm!
Dissappointing
Jun 5, 2022 | Posted By Dale Korona from Dunnellon, FL United States
Gifted and in use December 2021... rusting by May 2022. It's a rain gauge. I hung out in the rain. Seriously?
We're sorry to hear this, thank you for letting us know. We've asked the artisans to increase the protective coatings.
Rooster in the Rain
May 26, 2022 | Posted By James Croegaert from Evanston, IL United States
This was a Mother's Day gift (with sufficient hints provided!) and has proven quite satisfactory.. The rain gauge itself works well and is easily removable, and the metal rooster provides attractive oversight. We are pleased!
Perfect outside our kitchen window
Jan 4, 2022 | Posted By Carolyn B. from Baltimore, MD United States
Not only is this rain gauge whimsical, but it's tall enough to see from my kitchen window. Since we have freezing weather right now, I've removed the glass tube and the bird looks like its only function is to cheer us all up.
Delightful
May 5, 2021 | Posted By Lynne Bird from Wichita, KS United States
What a sweet yard ornament with a rain gauge!! Love it