View Product Reviews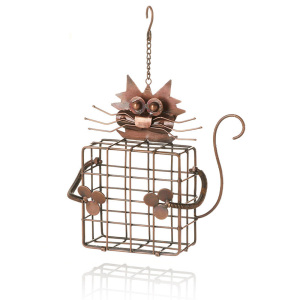 Manger of the Global Market
Sep 14, 2023 | Posted By Ava Swofford from Columbia, MO United States
These suet feeders are so cute, and will make a delightful present. Well made too.
Cool cat feeder
Jun 21, 2022 | Posted By James from Herndon , VA United States
Backyard birds love this feeder when it's filled with suet seed cakes. Holds up to two cakes.
adorable
Jan 12, 2022 | Posted By Sarah Pinney from Sugar Hill, NH United States
The cat suet feeder is not only useful, but very cute and unique. I love it and so do the birds!!
Cute & well made
May 7, 2021 | Posted By Diana Steinberg from Tallahassee, FL United States
exactly what I expected :)
Love this cute suet holder
Mar 8, 2021 | Posted By Ellen Hurdel from Union Bridge, MD United States
Works quite well, move the arms to open and close