View Product Reviews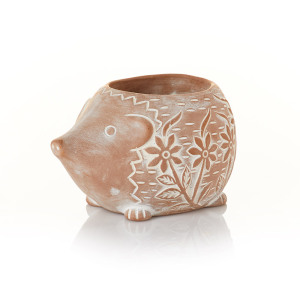 Adorable hedgehog
Oct 15, 2023 | Posted By Margaret Clemons from Port Clinton, OH United States
This little guy is adorable and very sturdy. I planted a small succulent in it and it is lovely.
Happy Hedgehog
Jul 18, 2023 | Posted By May C Brown from Stone Mountain, GA United States
Everyone loves the hedgehog. Great with succulents and small ferns.
Happy Hedgehog Terracotta Planter
Dec 26, 2022 | Posted By JMac from Monroe, NY United States
Happy Hedgehog Terracotta Planter
Jun 15, 2022 | Posted By Wendy Pfundtner from Clintonville, WI United States
Absolutely adorable and makes a lovely gift!
Dissolves when wet
May 29, 2022 | Posted By B from Tulsa, OK United States
These pots are adorable, I'd have one of each if it wasn't for the fact that they dissolve when wet! Indoors, planted less than two months, the entire pot is melting away. I see it says "protect from rain" but it seems a bit pointless to have a planter you can't get wet.
We're sorry for the disappointment and that this item didn't last longer. Unfortunately, terracotta doesn't always last well in the elements.
Excellent
May 26, 2022 | Posted By Mark T. Robinson from Northville, MI United States
I gave four of these flower/plant pots as a gift and the recipient was thrilled and started to use them immediately.
Always satisfied with orders!
Dec 9, 2021 | Posted By Ronnie Brancazio from Flushing, NY United States
I have ordered many items from SERRV and always been more than happy with the products. This time I ordered several terracotta planters -large bird, hedgehog, and snail - and they are charming. Everything comes carefully wrapped and I have never had a damaged item, even though many have been breakable. I'm glad to be able to purchase beautiful gifts, while helping craftspeople around the world.
Christmas gift
Dec 2, 2021 | Posted By Owen C. Wavrinek from Aurora, IL United States
This will make a great Christmas gift.
Cute & Functional
Oct 25, 2021 | Posted By Nancy McDonald from Grand Marais, MI United States
This hedgehog planter is sweet to look at, yet not overly cutesy. It's the right size and material for the succulents I grow indoors. It came very well packaged in recyclable or compostable materials. Recommended.
Happy Hedgehog makes me happy!
Oct 16, 2021 | Posted By Stephanie from Atlanta, GA United States
This is an adorable planter. I planted a cactus in it. The cactus also seems to be happy. The hedgehog doesn't come with a tray to catch water, but for now it's outside so it's irrelevant. Since I have a succulent in it, I don't water often anyway. Once I need to bring it inside, I think I can just leave it in the sink for a few minutes after watering and just not put it on something that will easily get water-damaged.