View Product Reviews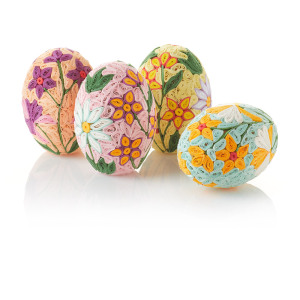 Dainty and lovely
Mar 28, 2023 | Posted By Randy from Brockport, NY United States
Bought these a an Easter Surprise for friends who love quilling art. These are beautiful and fascinating, dainty and lovely pieces of art.
Better in person
Mar 25, 2023 | Posted By Vicki Biscay from CAMP VERDE, AZ United States
These eggs looked cute in the picture but it couldn't really show the intricate construction.
Quilled Easter eggs
Mar 14, 2023 | Posted By Carol from Colorado Springs, CO United States
They are stunning. Do not hesitate to purchase them for yourself and for gifts. Exquisite and everyone loves and admires them!
Eggsquisite
May 5, 2022 | Posted By Kandler, Kim from Kaukauna, WI United States
So beautiful and well made! The color, material, design - perfect!
Artistic Eggs!
Apr 19, 2022 | Posted By Sarah Gorin from Laramie, WY United States
These intricately-decorated eggs make a bright Easter gift basket. Combined with a scatter of Divine chocolate eggs, they were a big hit with my recipients!
More beautiful than the picture!
Apr 12, 2022 | Posted By CHARLENE LYLE from SPARTANBBURG, SC United States
These were a gift and our friend was very impressed & just loved them. My husband has done a lot of quilling and was also impressed with the workmanship.
Beautiful. artisan work
Apr 11, 2022 | Posted By Nancy Emerson from Solvang, CA United States
The quilled Easter eggs from Vietnam were exquisite and a wonderful addition to my collection of SERRV Easter eggs.
Beautiful
Apr 8, 2021 | Posted By Gini MacDonald from Winter park, FL United States
Artistically crafted. Nice addition to my egg basket.
Delightful!
Mar 27, 2021 | Posted By Jane Kolar from Barstow, CA United States
The quilled eggs are so intricate and colorful. Just looking at them brings smiles.
A unique set.
Mar 22, 2021 | Posted By Julia Lang from Alexandria, PA United States
Beautiful. I bought these for my sister who has been a doctor thru this pandemic. She's decided to add joy to her life by decorating an indoor seasonal tree in one of her favorite rooms. This set of eggs was a perfect addition to her spring tree. She loves them.