View Product Reviews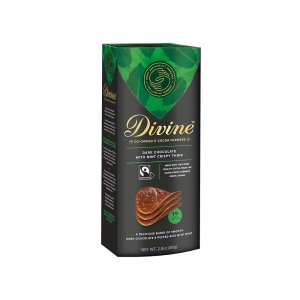 Very minty
May 31, 2022 | Posted By Joanne LaPorte from Columbia, MD United States
I have give these to several people and they have all loved them. They were very well packed and none have been broken.
Don't be fooled by the shape!
Mar 20, 2022 | Posted By Susan B Johnson from Silvis, IL United States
These are NOT chocolate covered potato chips. They are delicious chocolates, but there is no chip inside.
Delicious right portion Treat
Jan 6, 2022 | Posted By Diane Kay from Laurelton, DE United States
Love that dark chocolate minty flavor, melt-in-your mouth treat!
Chocolate crisps
Dec 27, 2021 | Posted By Mary Jenkins from New York , NY United States
They got broken into bits during shipment
YUMM!!
Dec 11, 2021 | Posted By Sylvia L Jacob from Miamisburg, OH United States
Pringles potato chips coated in dark chocolate .... Who wouldn't love these?! :-)
Awesome!
Dec 1, 2021 | Posted By Liz from Pickett, WI United States
I LOVED these chocolate "snacks"!! They are amazing!
Love Them
Feb 16, 2021 | Posted By Joni Cordell from Tensed, ID United States
This is the second time I have ordered these. I liked them so much that I ordered three packages.
Delicious
Dec 20, 2020 | Posted By Carrie Cruz from Williston, VT United States
Beautifully packaged and delicious!
Tasting Good
Dec 17, 2020 | Posted By IDELLA GOODMON from BRONX, NY United States
The crispy thins were delicious. Love them.