View Product Reviews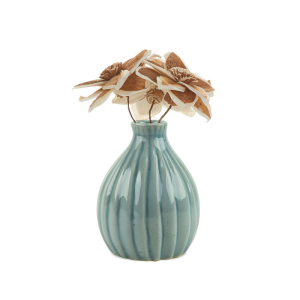 SOLA MAGNOLIAS WITH CELADON VASE
Nov 29, 2022 | Posted By K. KOSUDA from SPRING HILL, FL United States
Pretty and cute
Jun 26, 2021 | Posted By Claudia from Portland, OR United States
I love the color of the vase. The little flowers that come with it are nice too. This is not large, but fits well on my small, inset mantel. Love supporting the artisans.
They make me smile
Jun 8, 2021 | Posted By NANCY GRABINSKI YOUNG from UniversityPlace, WA United States
Put them in my kitchen window. Nice detail on flowers and vase color is relaxing and it is well made.
Pretty bouquet for my bathroom
May 4, 2021 | Posted By Charlotte Melichar from Mitchellville, MD, MD United States
This little bouquet makes my bathroom look prettier. The rest of my house is filled with living plants, but they would not survive in my bathroom. The sola flowers are lovely, and the little vase does not take up a lot of space, but is a pretty accent.