View Product Reviews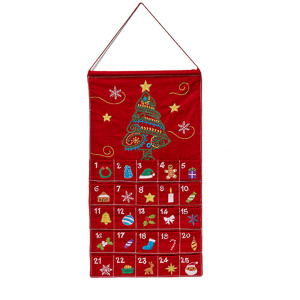 Great Advent gift
Oct 20, 2023 | Posted By Kitch from Bloomington , IN United States
This advent pocket calendar is a beautiful and whimsical gift that will likely become a family tradition.
Beautiful, reusable and fun
Dec 23, 2022 | Posted By Molly from Cheyenne, YT United States
A great gift for young kids. Refillable, variety, parent's choice of what goes in the pouches.
beautiful
Dec 6, 2021 | Posted By Julianne Sachs from Walla Walla, WA United States
This calendar is beautiful! It appears to be very well made and the detail emanates festivity. I liked it so well that I ordered a second as a gift.
Beautiful!
Nov 27, 2021 | Posted By Sherine Tully from Seattle, WA United States
This advent calendar far exceeded my expectations. It is beautifully crafted, and the colors are vibrant and joyful. The little pockets are big enough to fit a couple of small candies which made it perfect; I needed one calendar to deliver a treat to two people every day. I absolutely love this calendar. Thank you for making it available.