View Product Reviews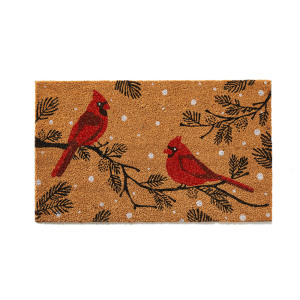 Nice mat
Dec 24, 2022 | Posted By Nancy from Madison, WI United States
Coconut fiber mat
Dec 9, 2022 | Posted By Mary Lu Brandwein from SAN DIEGO, CA United States
This is so beautiful and well done. It makes the house ready for Christmas all by itself. So pleasant to see coming home.
Pretty Christmas Doormat
Nov 4, 2022 | Posted By Mary C Boettcher from GERMANTOWN, WI United States
I haven't put this mat out yet, waiting until after Thanksgiving. It's very pretty and festive and looks to be well made. I'm looking forward to having it outside my front door.
Beautiful and great quality mat
Aug 28, 2022 | Posted By Edith A. Corbett from Tallahassee, FL United States
So glad for the offer to contact me when available. Well packaged and arrived in plenty time for the season. It was worth the wait!
Well made
Jan 4, 2022 | Posted By Sue from San Diego , CA United States
The design is actually fibers that are colored all the way to the stitching on the bottom NOT just stamped on the top........so I imagine as it wears the design will last
Very nice!!!
Dec 13, 2021 | Posted By Pasquale Parisi from Milwaukee, WI United States
Bought this as a replacement rug in our entranceway. It is much nicer than our old one. Picture is exactly as shown and the quality is excellent. Well worth the price.
Great Mat!
Dec 10, 2021 | Posted By Elizabeth from Raleigh, NC United States
Very beautiful, seems sturdy. Will enjoy this welcome mat this winter.
Winter doormat
Dec 2, 2021 | Posted By Owen C. Wavrinek from Aurora, IL United States
This doormat will greet visitors who come to our front door. We really love it.
Cardinal Mat
Nov 12, 2021 | Posted By Carol from Torrey, UT United States
Fun and colorful, perfect for the holidays.