View Product Reviews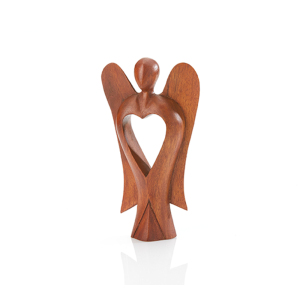 Caramel Angel
Nov 24, 2023 | Posted By Linda from Keystone Heights, FL United States
I have ordered two other carved angels and was expecting this item to look like walnut but it has more of a caramel or orange hue. Still very beautiful and well carved but be aware that color variation is possible.
Love it
Oct 5, 2023 | Posted By carole murphy from New Port Richey, FL United States
Bought as a Christmas gift for a friend that collects angels...she will love it, I'm sure
Beautiful
Nov 3, 2022 | Posted By Mary Beth from Texarkana, TX United States
Even lovelier than I had expected. Was greatly appreciated by the gift recipient.
Angelic
Dec 7, 2021 | Posted By Lise Hedstrom from Decorah, IA United States
The wooden angels are pretty and plain, good for religions that practice simplicity. I like the faceless angel, like Amish dolls. I bought two angels, one for my daughter and the other for my mantel.
Carved Heart Angel
Nov 12, 2021 | Posted By Derry Dickinson from Dorset, VT United States
This piece was even more beautiful than I expected!
Acacia Carved Heart Angel
Oct 16, 2021 | Posted By John from Phoenix, AZ United States