View Product Reviews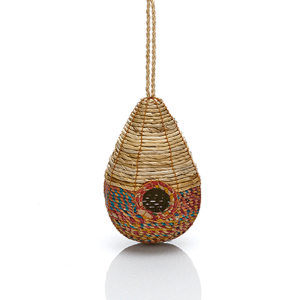 Already has new tenants!
Jun 14, 2022 | Posted By Sherry Douglas from Carpentersville, IL United States
I was excited to hang my birdhouse. Just after a few weeks, I already have chirping baby birds!
A wonderful, creative product
Mar 24, 2022 | Posted By Christine from Greenland, NH United States
When I realize the amount of handwork that goes into the making of this birdhouse- cutting of fabric, twisting of fabric into cord, creating a steel frame, and sewing the cord onto the frame- I am in amazement of how these woman can create such a great piece. Many hours of work to complete just one. So creatively made!
Nice but kinda pricey
Dec 20, 2021 | Posted By Julie Sorensen from SYCAMORE, IL United States
This a sweet little house, but seems a little pricey to me.