View Product Reviews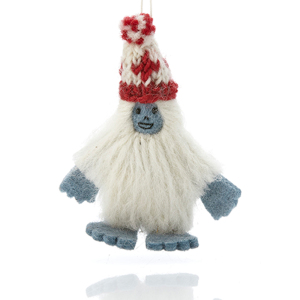 Yeti
Feb 11, 2023 | Posted By Virginia L Danielson from Watertown, MA United States
This extremely cute ornament attracted the attention of my cats who thought its fluffiness was lots of fun. I had to then buy two -- one for them and one for the tree. The ornament is well-made and, in my experience, unique. It adds a bit of flair to our already eclectic Christmas tree. Don't hesitate to get one.
Very cute
Dec 27, 2021 | Posted By Kathy from Huntington, WV United States
I have seen Big Foot Christmas ornaments and found this Yeti ornament very adorable. This ornament is well made and charming..
Cute well-made ornaments
Dec 2, 2021 | Posted By Linda S from Vancouver, WA United States
These handmade ornaments are very cute and are excellent quality. I bought the yeti for myself and the corgi as a gift. They are clearly made by a skilled artisan with an eye for style and detail. Very happy with my purchase.