View Product Reviews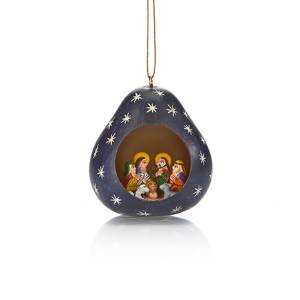 Beautiful Gourd Ornament
Jul 27, 2023 | Posted By Janet Reardon from Fort Collins, CO United States
Beautiful nativity ornament. We received packaged well.
Fine craftsmanship
Oct 10, 2022 | Posted By Christine Venzon from Peoria, IL United States
Each ornament was beautiful and unique, very fine details. They arrived in excellent shape, very well wrapped and protected for shipping.
Lovely ornament
Oct 8, 2022 | Posted By Myhre Sherilyn from Belfair , WA United States
The Night Sky Nativity Ornament is beautiful and just the right size. I love finding a special ornament each year for my granddaughter. Thank you.
nativity gourd
Dec 19, 2021 | Posted By Joanne from SanDiego, CA United States
A perfect ornament for someone who collects nativities. Well made and colorful.
Night Sky Nativity Gourd
Nov 12, 2021 | Posted By Derry Dickinson from Dorset, VT United States
Such a stunning ornament!
Beautiful!
Oct 11, 2021 | Posted By Jean from Middleburg Heights, OH United States
This Nativity scene is beautifully made. I bought it as a Christmas gift for a friend.