View Product Reviews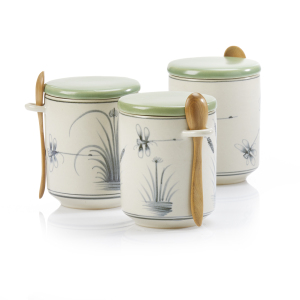 I Love These!
Nov 27, 2023 | Posted By Kathleen Polly from Boca Raton, FL United States
I have been eyeing these for quite some time. Since they were on sale I decided the time had come. They are a lovely addition to my kitchen. The colors are soft and easily soothing on the eyes. Great for any items such as flour, sugar, etc.
Lovely...
Apr 29, 2022 | Posted By Ewa M Pankratz from De Pere, WI United States
.....jars for storing loose leaf tea!
So sweet!
Nov 29, 2021 | Posted By Michele from Bristol, RI United States
Honestly, these are the cutest little mini jars. The artwork is what drew me to them, it's just amazing. The wooden spoons and holders just add to the loveliness!