View Product Reviews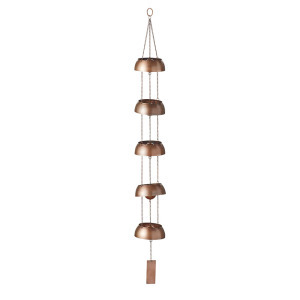 perfect for birds
Oct 13, 2023 | Posted By Mary F Boettcher from BLACK EARTH, WI United States
I've hung three of these in front of windows and it's kept birds from hitting them. And- I like them quiet (don't need the clanging)!
Doesn't ring
Jun 21, 2023 | Posted By Ronn R Newby from Johnston, IA United States
It is beautiful however it does not chime.
Doesn't ring
Apr 27, 2023 | Posted By Mary Halford from Greenbelt, MD United States
Beautiful, but doesn't ring
This is intended to be quiet decor, for those who would prefer not to hear chime sounds.
Beautiful but inaudible
Jun 2, 2022 | Posted By Michal from SOMERVILLE, MA United States
This was a real disappointment. The piece looks lovely, but as far as I can tell, it makes no sound at all, and I've listened carefully.
We're sorry for the disappointment, it is a quiet decor piece.