View Product Reviews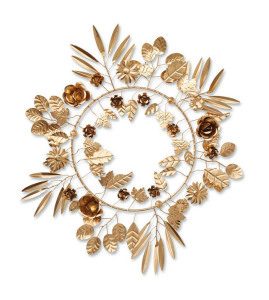 Lovely, but large and impossible to return
Nov 6, 2023 | Posted By patricia sprinkle from Raeligh, NC United States
Was a gift, a lovely thought, but the wreath is larger than advertised. Too large for my table, unsuitable for hanging on storm door, and doesn't fit on any of my walls. Trying to return it, am not sure how it originally fit into its box, but it measures 21" point to point and box is 19" square. Hoped to exchange for something else, but I'll keep it and see if somebody else can use it. Very disappointing. It is also fragile, the lovely iron is fragile so parts get mashed or bent out of shape. I wish it had been smaller... I give it 5 stars for lovely, 1 for practical, so a 3.
Beautifully made, makes a beautiful display
Aug 25, 2023 | Posted By Mary Walker from North Royalton, OH United States
Bought this last year as a gift for a friend. When I received it I was so impressed with how lovely it was. I decided I wanted one for myself but it had already sold out for the year. Was ecstatic when I received notice that it was back in stock! This is a really special piece.
Beautiful wall decoration!
Dec 2, 2022 | Posted By Julie Beal from Arivaca, AZ United States
Ordered as a gift, I was very pleased with this large, gorgeous wreath! I will probably order another one!
Beautifully done
Nov 29, 2022 | Posted By Mary from North Royalton, OH United States
This wreath is stunning and beautifully crafted. I know I love it and hope the friend I will be giving it to loves it as well
Beautiful!
Oct 27, 2022 | Posted By Susan from N. Chesterfield , VA United States
Just lovely. I placed it on my pantry door to dress it up.