View Product Reviews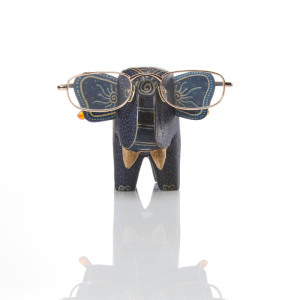 Turning utility into decor.
Jul 2, 2023 | Posted By faith from Tampa, FL United States
My husband adores his Father's Day gift! He thinks it's so pretty that I have to remind him it's where he is supposed to be keeping his glasses.
Elephant Eyeglass holder
Dec 28, 2022 | Posted By Randy Carri from GOODLAND, KS United States
It was not as advertised. If you look at image of where the ears attach to the body it appears as if the ear is fully connected to the body. The piece I received has a wood dowel that connects the ear to the body. There is a gap greater than 1/8 of an inch between the body and the ear. It appears that someone did not fully insert the ear. I could not push the ear further in because the hole in the elephant body was not drilled deep enough. It looks like a child assembled it. I was very disappointed and embarrassed to give it as a gift.
We're sorry to hear that this item was not as advertised and should not have passed quality control. We're making sure this error has been resolved directly with you. Please feel free to email orders@serrv.org to resolve any issues with your order.