View Product Reviews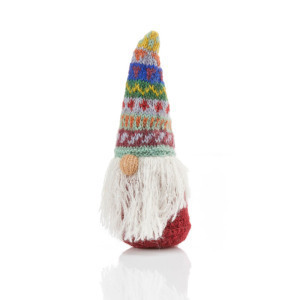 Cute but LARGE
Nov 28, 2023 | Posted By Ann G Patella from Hiram, OH United States
Having missed out on these gnomes last year when they went out of stock, I was delighted to find them availabe this year. It was a surprise to me that they were so LARGE. (In my mind, they were small enough to place on a bookshelf). Nevertheless, they are cute and I love the idea that they are made of remnants that might otherwise have been wasted. And the people who received them were thrilled!
Absolutely adorable!
Nov 27, 2023 | Posted By lee from cambridge, MA United States
I bought two at IKEA and these blew those out of the water in terms of quality and adorableness. I'm sending the IKEA ones back!
Nepali Temnant Gnome
Jul 25, 2023 | Posted By Sherry Dinnen from Allison Park, PA United States
I very much wanted this item, and tried for eight months before it was back in stock. I had a choice of three different gnomes and chose one that had the most red and green in it. However, when it arrived, it had none of those colors, at all, and is instead, mostly brown. I still like the item, but it will not serve the purpose I had originally intended for it.
Gnome
Jun 29, 2023 | Posted By Lorene Miller from Leawood, KS United States
My daughter fell in love with this gnome when its picture was on the cover of the catalog before Christmas! We were disappointed to find that it was out of stock, but we asked to be notified when it became available. It was worth the wait! It's so cute and well-made. She calls it her "gnomie homie".
gnome
Dec 7, 2022 | Posted By Nancy Daigler from Kenmore, NY United States
I LOVED the gnomes that I bought. I bought them for three youngsters, but I almost kept them for myself. They are great.
A Gnome for your home!
Dec 2, 2022 | Posted By Julie Beal from Arivaca, AZ United States
A fun gift for gnome lovers and collectors. The companion gnome was out of stock, but the pair would be a great gift, too.
Adorable
Dec 2, 2022 | Posted By Judith Jones from Lakewood Ranch, FL United States
These are adorable and beautifully knitted gnomes. I bought enough for both of my sons and their family. Each person will have their own gnome to name!