View Product Reviews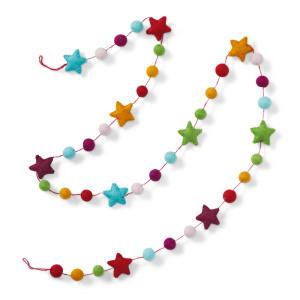 Pretty and bright!
Sep 28, 2023 | Posted By Laura Derr from Easthampton, MA United States
This garland is very well made, hand stiching around all the star points. Very fun and festive!
Great and festive
Aug 18, 2023 | Posted By Crowhound from Columbus, OH United States
I use these types of garlands to hang in my sidelight windows of my front door, and also to decorate the ends of curtain rods around the house. So, they're year-round for me. These are smaller than some others I have with felt balls, but are very nicely made and the colors are rich.