View Product Reviews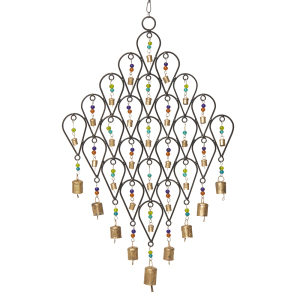 Manager, The Global Market, all fair trade.
May 13, 2023 | Posted By Ava Swofford from Columbia, MO United States
Always a best selling mobile! So pretty and well made.
Bell chimes
Mar 15, 2022 | Posted By Blanca Palma from KANNAPOLIS, NC United States
it is a beautiful product, it looks wonderful hanging or on the wall.
Beautiful chime
Oct 7, 2020 | Posted By Ellen Fleisher from New Market, VA United States
This chime is a holiday gift for a friend. She will be thrilled. It's well made and has a lovely sound to it when the wind blows.
thing of beauty
Jun 8, 2020 | Posted By W from Riverside, CA United States
Do you know that feeling you get when you look at something that is just beautifully made? That "wow"? This is it. It is an imposing piece, delicate yet well made. Not particularly noisy. Holds up well with very strong winds (we have some Santa Anas going and my patio furniture has already blown away).
Beautiful!
May 23, 2020 | Posted By Kat from Marshall, MI United States
I'm so pleased with this purchase. It is exquisitely beautiful and it's such a happy wonderful piece to have hanging in my backyard.
Gorgeous
May 21, 2019 | Posted By Larissa from Montgomery, AL United States
Even more beautiful in person! Well made and will last.
Gorgeous
Dec 26, 2017 | Posted By Peter from Tucson , AZ United States
The beads are just gorgeous backlit by the rising sun.
Pretty Sounds
Dec 16, 2017 | Posted By Emily from Ferndale, MI United States
This is a large chime with pretty sounds - it is great free-hanging but also would look pretty against a wood fence or door.