View Product Reviews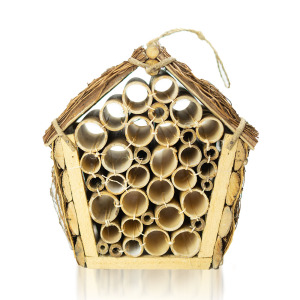 Beautiful bee house
Jan 3, 2022 | Posted By Susan from Lunenburg , MA United States
I love buying products from Serrv and this is beautiful & well made. My only concern was I thought some of the tubes were pretty large in diameter. From the research I'd done I had read the Mason bees prefer 5/8" across & these are certainly bigger than that but we'll see in the spring how the bees like it!
Cute but needs work for bees to live here
Nov 20, 2020 | Posted By Jules from Rockville, MD United States
Hi, In order to prepare this bee house for bees to live, you will need to order or make tubes (bamboo, cardboard) that are the appropriate size, 8mm in width. Also, you will need to add a back wall to this beehouse as the tunnels need to be closed on one side before bees will lay larva. I ordered cardboard tubes for $12 dollars, plugged end with clay, and glued them inside the too-large bamboo. Then I used part of a wooden fruit box to cut and nail on a back panel. Ideally, there should also be some overhang to the front roof to protect the larva from rain if this product is redesigned in future; couldn't figure out how to do that without making this cute beehouse unrecognizable. Will be hanging it under the overhang of the roof to keep it protected. It's always nice to support SERRV but I hope they update this bee house if they continue to sell it as it is not livable for bees.
Thank you for your feedback. We do recommend mounting this against a flat surface.
Mason Bee House
Jun 18, 2020 | Posted By Annette Emery from SACRAMENTO, CA United States
I bought this for my husband and he loves it. We are curious about the size of the holes for the mason bees since they are very large. We plan to enjoy it as the mason bees show up.
Love This!
Jun 2, 2020 | Posted By Tina Gresham-Gomez from Norwood, NJ United States
Solid and sturdy construction. Lovely to look at. I hung mine in our front yard tree and it looks really good. Awaiting mason bee arrivals!
Great Addition to My Wildlife Garden
Apr 3, 2018 | Posted By Susan from Beacon, NY United States
So it snowed here the day after Easter, but I'm still counting on a spring and summer, and this is already in a sheltered section of the yard on a shepherd's crook. It's very well made and looks terrific, but the bees wil be the ultimate judge. I love the fact that I can buy a useful, attractive, high-quality product made by artisans who are fairly paid for their work, and then use it to help improve the environment in general, and in my garden. With so much wrong in the world, everything has to take on at least double duty!
Do not buy this design
Mar 24, 2018 | Posted By Lisa from Wenatchee, WA United States
This bee house may be cute but it is all wrong. Solitary bees need tubes that are deeper and smaller in width.
Thank you for sharing your feedback. We are checking our inventory and discussing this further with our artisan partners in the Philippines.
Mason Bee House
Jul 24, 2017 | Posted By Elaine from Lakewood, CO United States
Love it! Well made. Looking forward to new tenants! :))
Not a good buy
May 17, 2017 | Posted By Kelly from Waynesboro, VA United States
Unfortunately this item is not an adequate product for the purpose of supporting native bees. It doeant meet their needs. Do some research before you invest in a mason or other native bee house.
Thank you for your feedback! This is very important to us and our product development team is researching this issue. Thank you for bringing this to our attention.