View Product Reviews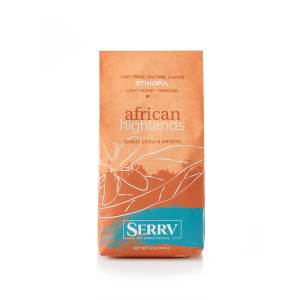 Splendid Coffee
Jul 2, 2023 | Posted By Vivian H. Marquez from Highland, CA United States
I don't drink as much coffee as I did in the past and am particular about the flavor and origin of coffee I now purchase. This coffee is mild and I enjoy it with hot cocoa. Make my own hot mocha.
Coffee
Feb 6, 2023 | Posted By Bill from North Riverside, IL United States
Very good coffee. I have tried all types and continued to purchase these as It's nice changing up flavors. I love that we support small growers and fair trade. Have given as gifts and people enjoy them. Another enjoyable morning blend.
I prefer light roast
Sep 2, 2021 | Posted By Irene from Cincinnati, OH United States
And I really like this coffee. This will be my third time ordering it and last time I got 3 bags.
Ethiopian Coffee
Aug 30, 2021 | Posted By Diana from Gaithersburg, MD United States
The Ethiopian Coffee is excellent. So glad that you are able to receive it !!
Excellent coffee
Mar 21, 2021 | Posted By Ann Reddin from Grand Junction, Colorado, CO United States
Ethiopian coffee is the best. I have enjoyed it for years!
Good Coffee
Jan 26, 2021 | Posted By Ann Reddin from Grand Junction, CO United States
This is very good coffee. I like to drink coffee from different places and so far this is the best.
Caffeinated Excellence
Sep 14, 2020 | Posted By Susan Morrison from South Plainfield, NJ United States
Since the pandemic, finding quality single-origin coffee has become so much more difficult but this delightful Ethiopian had solved that problem. Now it's my go-to resource. I'm so glad I tried it!
My new favorite
Aug 7, 2020 | Posted By Vidette Buchman from Tacoma, WA United States
Serrv ran out of the coffee I usually order so I tried this. It is a medium brew without any bite or after taste. A nice clean brew.
Excellent coffee
Sep 28, 2019 | Posted By Judy from Arlington Heights, IL United States
I love this coffee. It is smooth and not bitter. I hope you continue selling this for a long time.
Great Coffee!
Jun 9, 2019 | Posted By Rhett Paulson from Anchorage, AK United States
I use this to make the best coffee I've ever tasted. I can't go back and am a repeat user. Disclosure: I drink my coffee black and cold so this may be too subtle if you add large amounts of sugar and cream
Unique flavor
Jan 30, 2018 | Posted By Christine from ALBANY, CA United States
The "bright and lively" description is apt, to my taste it's slightly more bitter and I prefer some of the other, less light roasts offered. I didn't take off a star because this flavor difference is presumably what others are enjoying. I would buy this occasionally for variety but recommend "Early Riser" as a slightly darker medium roast.
Great Coffee
Aug 11, 2017 | Posted By Karen from Dallas, PA United States
Ethiopian grown coffee has become one of my favorites since my daughter sent me an order from Serrv for Mother's Day. I had to get more