View Product Reviews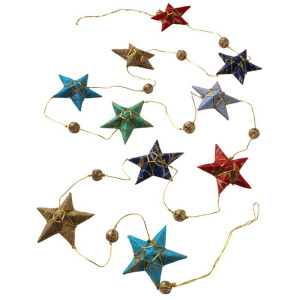 Estrella Garland
Nov 27, 2023 | Posted By Colleen O'Connor from Madison, WI United States
This seems to be made well however the colors were not as bright as I was hoping. Partly my fault as I must not have looked at the picture that closely. I wasn't expecting brown stars which are quite dull.
Attractive
Oct 24, 2023 | Posted By Harriet Kopp from Gerrardstown , WV United States
The garland is well done and I look forward to using it and giving as gifts.
New Winter idea
Sep 28, 2023 | Posted By Linda from Austin, MN United States
I wanted something different for a winter decoration...paper star garland is just right. I like the style, size, and colors.
Lovely garland
Dec 15, 2021 | Posted By Mary D Vincent from Greensboro, NC United States
I have this on my tree now and it looks beautiful
Sweet delicate garland
Dec 12, 2021 | Posted By lee jenkins from cambridge, MA United States
I bought three and used them as garland on my Christmas tree. I have a narrow 5-6' tree and would have needed 6 to do garland over the whole tree.
Lovely Garland
Dec 3, 2021 | Posted By Lisa from BAY VILLAGE, OH United States
This is a lovely, well-made garland that brightens my mantel. Glad I made the purchase.
Estrella Garland
Oct 7, 2021 | Posted By Gerald E White from Framingham, MA United States
We bought three of these from a church fair a few years ago and were able to buy three more this summer through SERRV. Shipment was quick and quality is great. 5 stars!
As Described
Nov 23, 2020 | Posted By Sarah A Mato from SPRING BRANCH, TX United States
Just as described, what I wanted, needed and expected.
Wonderful!
Sep 2, 2019 | Posted By Mary from Carmichael , CA United States
I bought a string of these stars over 10 yrs ago for Baha'i holy days, but they were so beautiful I sometimes leave them up year round! They still look brand new.
Lovely and well made
Sep 8, 2018 | Posted By Mary Smith from Acton, MA United States
These are exquisite and I ordered a lot of them for holiday gifts because everyone loves them. They are appropriate year-round; I also use them in a calming center for my students. Beautifully made, thank you!
Estrella Garland
Apr 13, 2017 | Posted By Gail from Ridgefield, WA United States
One can never have too many of these wonderful garlands in one's gift box, or home. They are the perfect gift at Christmas or anytime. When I visit friends who have received them from me, I often see the star garland through the year.
Garland Review
Jan 4, 2017 | Posted By Sue from Littleton, CO United States
I loved giving this as gifts to several people. Everyone seemed to appreciate it.
Estrella garland
Dec 15, 2016 | Posted By Julia from Abilene, KS United States
I bought this for the tiny tree my youngest puts up in her bedroom and we both love it! If you wanted it for a bigger tree, you'd need to order several, but they are so inexpensive that wouldn't be a problem. And so well made, I was afraid this would be very fragile, but that's not the case at all. Just perfect!
Charming decoration
Dec 12, 2016 | Posted By Patricia from San Francisco, CA United States
We ordered 2 the first time. After seeing how cheerful they made the window look the following year we ordered more and now have enough for all windows and doors.
So pretty
Oct 16, 2016 | Posted By Marie Ethen from Madisom , WI United States
very pretty stars in bold colors. Can't wait to put them up at Christmastime. But they will be pretty other times too!
Perfect for you - and for gifts!
Jun 8, 2015 | Posted By Darcie from Milwaukee, WI United States
Snatch these up! They offer a unique touch for the holidays. I use a few strings to decorate the mantel, I string one across a large mirror, I hang them from doorways - I love these. It's also nice to have a few extra on hand when you need a small gift.
Love!
Nov 10, 2013 | Posted By Beccala from Boston, MA United States
This garland is even prettier in person. It's a good length and perfectly weighted for draping. I want several more for myself and as gifts!